I've been to Florence once before but this was my first time with my three children. The kids are now a little older (aged, 11, 11 and 12) and I knew that they would be able to appreciate the incredible artwork and architecture that makes Florence an unforgettable city to visit.
Getting to Florence
I would recommend arriving by plane or train and forget about the hire car for this city. You won't need it and driving is heavily discouraged in the centre of Florence. This is evident from the restricted traffic zones called ZTLs that have been setup to photograph the license plates on all cars who enter the ZTL.
As we had been staying in Rome, we got the train into Florence. The train only took one and a half hours where it would've taken three hours if we had driven. It was so comfortable on the train and a great way to enjoy the scenery. When we arrived at the train station, the taxis were lined up outside the train station, Santa Maria Novella, waiting to take everyone into the centre. Standard taxis take four people so if you are family of five, you'll be expected to pay an additional €1 for the extra person, and an additional €1 for each large suitcase.
Where to stay in Florence with the kids
We always like to stay in self catering apartments when we visit a city so that we have the option of cooking for ourselves when we want to. We also wanted to stay in the centre of the city so that we were in the centre of the action so we opted for the Anselmi apartment with Windows on Italy.
The apartment is on the second floor (up 68 steps) of a beautiful 16th century building but inside it's like a modern New York penthouse with stunning interiors.
This amazing two bedroom apartment is situated in the Santa Croce district on the eastern edge of Florence's historic city centre and only a couple of minutes walk to the Duomo. In fact, it's so close you can see the famous dome from the window in the living room and one of the bedrooms across the classical, multilevel terracotta roofs.
There are two beautifully appointed, bathrooms one of which had a washing machine and a tumble drier. This was perfect for getting those holiday clothes cleaned and dried quickly. There was air-conditioning in each room which kept the hot and humid summer days at bay. Everything was provided as standard, towels, bedlinen, there were even some toiletries.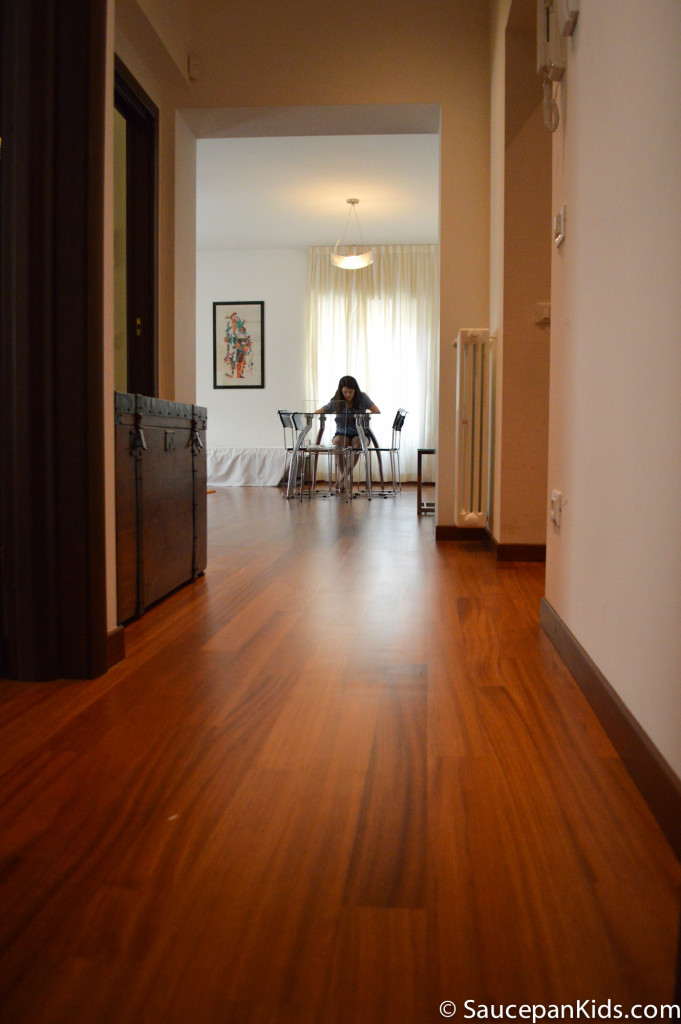 The kitchen was a cook's kitchen, it had everything you could possibly need. It was great fun to visit local food markets, pick up locally sourced ingredients and cook at home like a true Florentine.
The apartment also gave us the freedom to spread out, the kids could play in the bedroom, read in the living room or write their travel journal at the dining room table. All things that would prove difficult if you're staying in hotel room.
Things to do in Florence with the kids
Visiting the Duomo Cathedral
Just a couple of minutes walk from the apartment is the Cathedral of Santa Maria del Fiore which is in Piazza del Duomo. Duomo is actually the Italian for cathedral. The exterior of the Duomo is dramatic as it is covered by green, white and pink marble.
You can get into the Duomo for free but if you want to visit the bapistry or the museum, you will have to pay. You can also climb to the top of the dome but there was always a huge queue every time we tried to do it so we settled for climbing the 414 steps up the bell tower which is located around the corner. There was no queue and in my opinion, it was better as it meant that we could take photos of the Duomo itself.
Note that there is no lift to the top of the tower and the steps are quite narrow so it might be worth giving this one a miss if you're claustrophobic at all.
The view is worth it.
Crossing the Ponte Vecchio bridge
This bridge is one of the most famous landmarks in Florence. Crossing the Arno river, it's also the oldest bridge in Florence having been built in the 14th century.
Now, it just houses numerous jewellery shops and street traders trying to sell selfie sticks and cheap plastic toys to the kids. There's some incredible history behind the Ponte Vecchio bridge, it was the only bridge that was not destroyed by the Germans in World War II as Hitler knew that there was precious art work stored on the bridge. The kids weren't that excited about this bridge but were happy to pose for the obligatory photo.
Visiting the Galleria dell'Accademia
Although James and I had been to Florence before, our knowledge of Italian history wasn't great so we decided to book the 'Best of Florence' tour with City Wonders so we could find out more about the Galleria dell'Accademia and in particular Michelangelo's sculpture of David. We had a fantastic tour guide Paul who had a PhD in Art History and made everything so interesting for all of us. His enthusiasm was infectious and he really interacted with the group.
He started with a history lesson teaching us all the three major time periods (Roman, Middle (dark) Ages and Renaissance) and continued the story right up to World War II.
I'll be honest, I wasn't 100% sure if the kids would enjoy it but they really did and hung off every word Paul said. We all learned so much and it is amazing what you miss when you walk around these places on your own as we did 15 years ago.
Eating in Florence with the kids
Lunch
We discovered an incredible little restaurant around the corner from the Uffiizi courtyard, called Alimentari Uffizi. It was tiny, it could only sit about 10 people.
We spoke (well gestured mainly) to Alessandro, the proprietor who suggested preparing three platters containing different cured hams, bruschetta, cheese, olives and tomatoes for us.
We discovered that all the pork comes from the family farm in Umbria. It tasted amazing.
It wasn't cheap, it cost €50 however I feel that it was well worth it considering the quality and it included drinks – fizzy water for the kids and wine for the parents.
Dinner
When we checked into our Windows on Italy apartment, we were given a map and some great recommendations on where to eat in Florence. As she was a local, we trusted her recommendations and tried out one of her suggestions, Trattoria Pallotoni. James and I tried the Florentine speciality 'Bistecca Florientina' which is a huge T-bone steak, cooked rare (don't ask for it to be well done, they'll be highly insulted!). It might put some people off but it was delicious. The kids chose to have wild boar pappardelle and penne with asparagus and pork sausage as well as helping us with the huge steak.
Cooking in the apartment with the kids
One evening we stayed in and made a delicious Bucatini all' Amatriciana with ingredients we bought from a nearby grocery shop.
We had eaten this meal in a restaurant in Rome a few nights before, whisper it, ours was probably nicer!
A take-away in Florence  – Fish n' Chips
Apparently the Italians really know how to make fish and chips and we can now back that up after visiting a 'chip shop' called Fishinglab, just around the corner from the apartment.
Traditionally called Fritto Misto in Italy, the fish is fried mixed seafood (Shrimp, whole anchovies, whole squid, calamari). It cost €3.50 for each portion which was great value considering how tasty it was.
Best gelato in Florence
Here's a little know historical fact, apparently, gelato was invented in Florence by Bernardo Buontalenti, who made it for the Medici family.  There is a chain of gelato shops in Italy called 'Grom' which had been our favourite ice-cream haunt until we found a small place called Rivareno Gelato just around the corner from the apartment.
My favourite flavour here was pistachio.  It cost €2.50 for a small cone 'cono piccolo' with two generous scoops of flavours.
Final tips for enjoying Florence with kids
Consider booking self catering apartment with a reliable company like Windows in Italy in a central location to minimise walking for those little legs!
If your kids are a little older, look at booking a guided tour which will bring the city to life, pointing out fascinating facts that you would otherwise miss. They will also guarantee quick entry into major sights, avoiding some potentially lengthy queues.
Try and find restaurants away from the main tourist areas, these will generally be better value and often have better, local food.
If you are visiting Florence in the summer, consider getting out and about in the morning and evening, avoiding the hotter mid day sun.
Try and have some unstructured time for wandering around this beautiful city.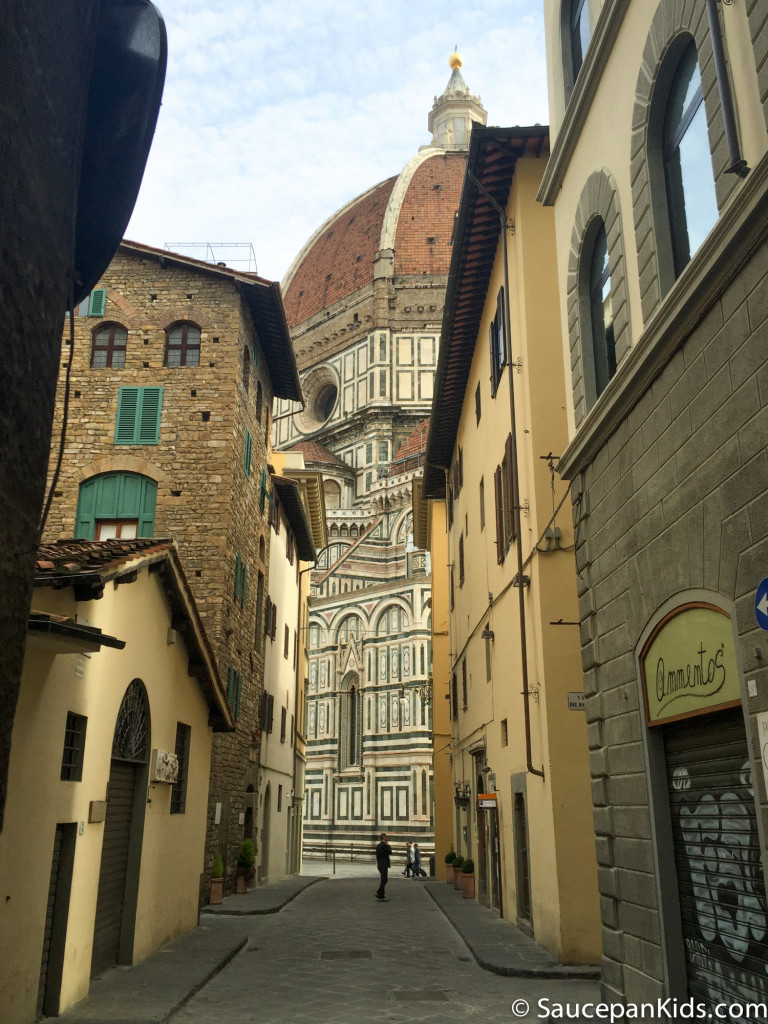 Disclaimer – our accommodation at the Anselmi apartment in Florence was provided by Windows on Italy for the purposes of this review. Thi

s review is, as always 100%, honest and our own opinion.
To find out more about Windows on Italy and to book your own Italian adventure, visit them http://www.windowsonitaly.com/