A visit to Eden Project in Cornwall with the kids – Review
Posted on 28th April 2017 by Debbie 4 comments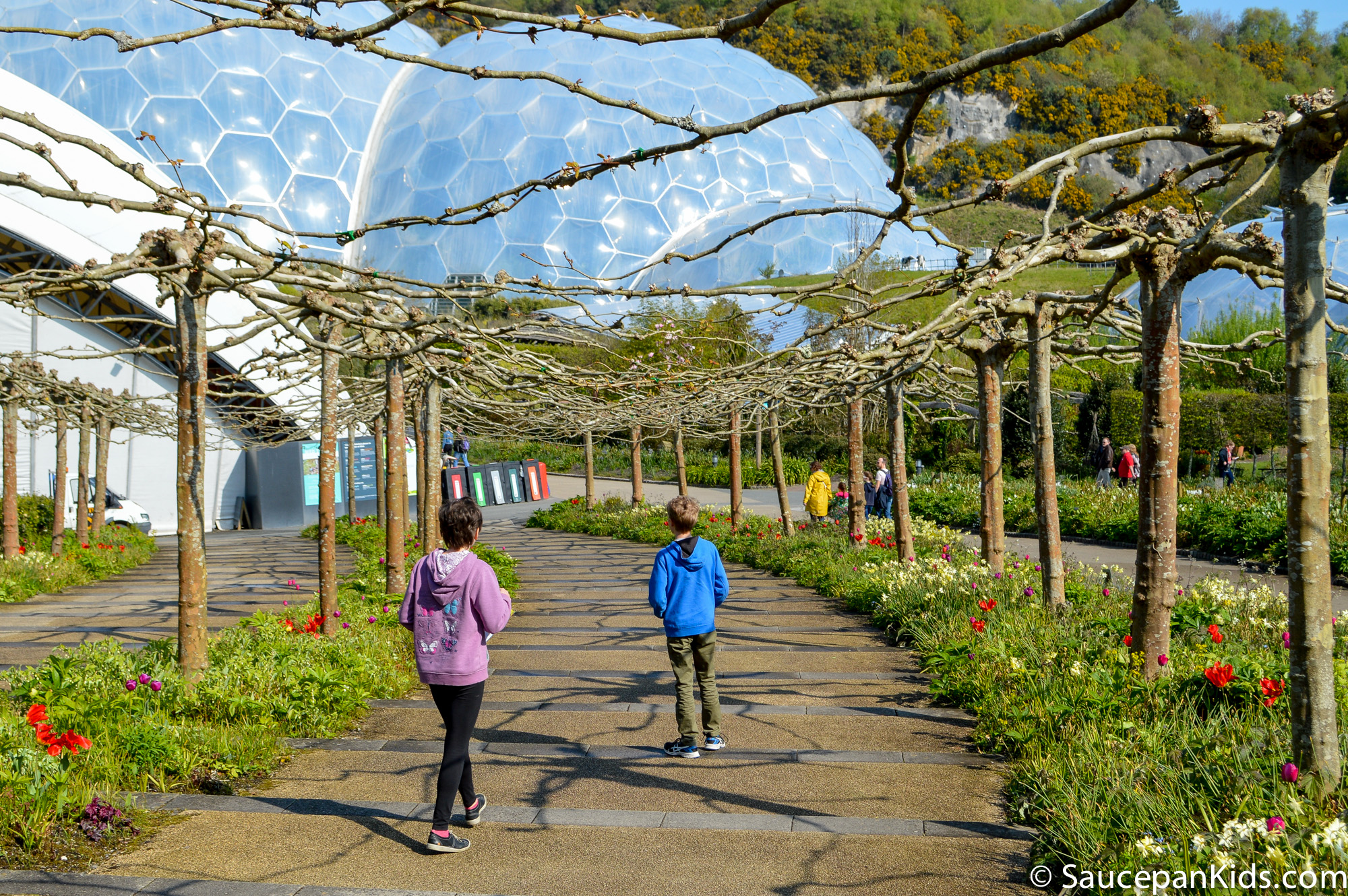 We always wanted to visit Eden Project. It had been recommended to me by LOTS of people who said that if you're ever down that way in the UK, you HAVE to visit. So, this Easter, we all headed to the world's largest indoor rain forest for the day.
Watch the video of our day at Eden Project :
The Eden Project is an educational charity whose aim is to connects us with each other and the living world, exploring how we can work towards a better future. It's nestled in a huge crater which back in 1995 was a working china clay pit which was nearing the end of its economic life. Now it is a thriving place where nature is celebrated and curated so that different plants and zones offer a 13-hectare lens through which to view humanity.
Here, massive biomes housing the largest rainforest in captivity, stunning plants, exhibitions and stories serve as a backdrop to striking contemporary gardens, summer concerts and exciting year-round family events.
Arriving there
After getting a little lost en-route, another signpost issue, we parked and chose not to take the park and ride bus but to walk as it was a lovely day. It's only when we walk into the arrival area that you get your first glimpse of the biomes, which are the giant greenhouses at Eden Project. They're futuristic and breathtaking.
Rainforest Biome
We first visit the rainforest biome to experience four of the world's rainforest environments: Tropical Islands, Southeast Asia, West Africa and Tropical South America.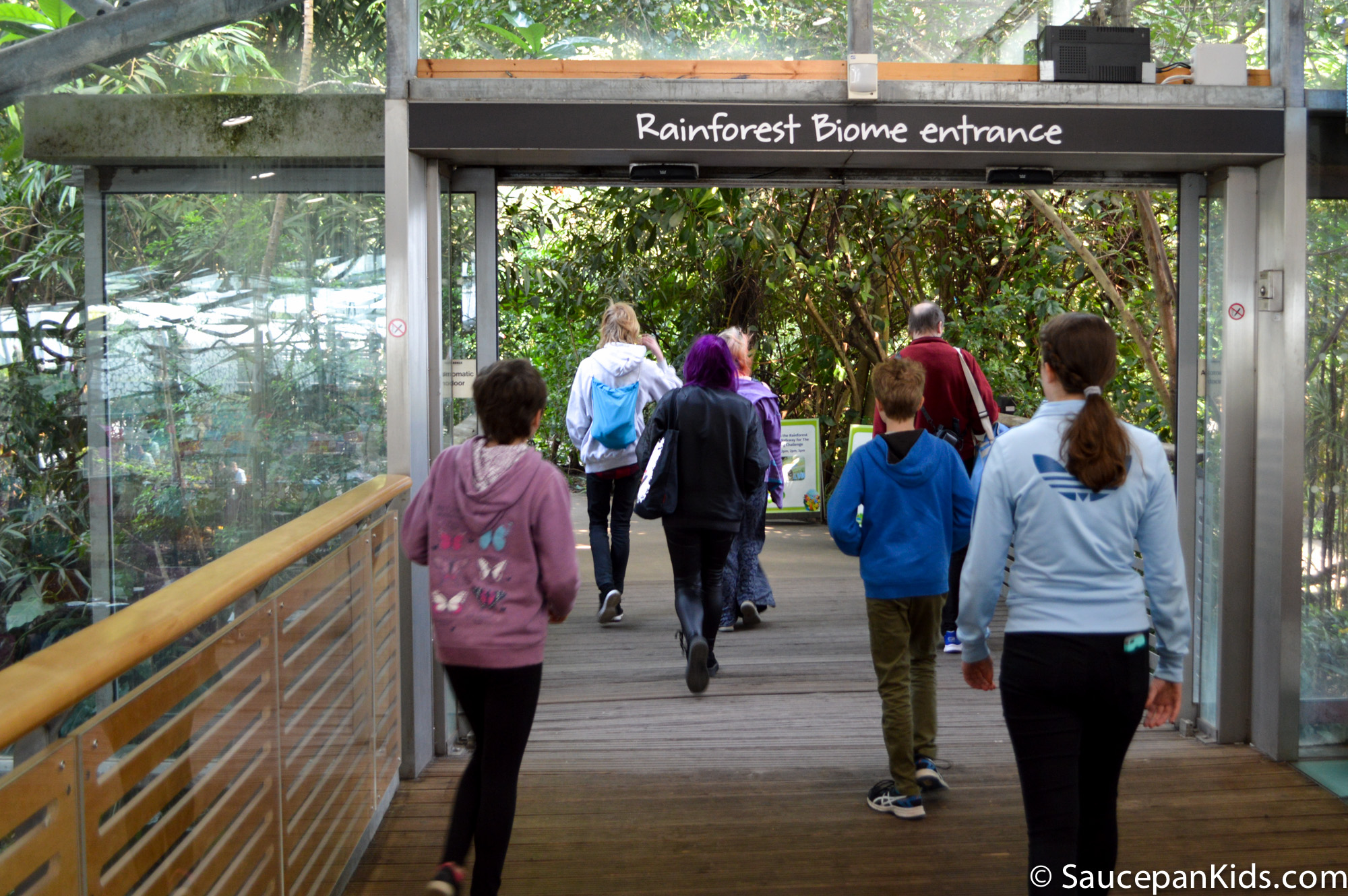 The first impression as we walk in is that of the tropical heat. It was 36 degrees with 90% humidity and is something that we're certainly not used to on the coast in West of Ireland. We're all wishing we had worn shorts that day.
As we wander through the biome, we see bananas growing in the trees, a Malaysian hut, rubber trees and an African totem sculpture made from timbers recycled from Falmouth Docks.
Titan Arum
We stopped by an extraordinary plant, Titan arum (the Corpse flower) which is usually found in a rainforest in western Sumatra, Indonesia.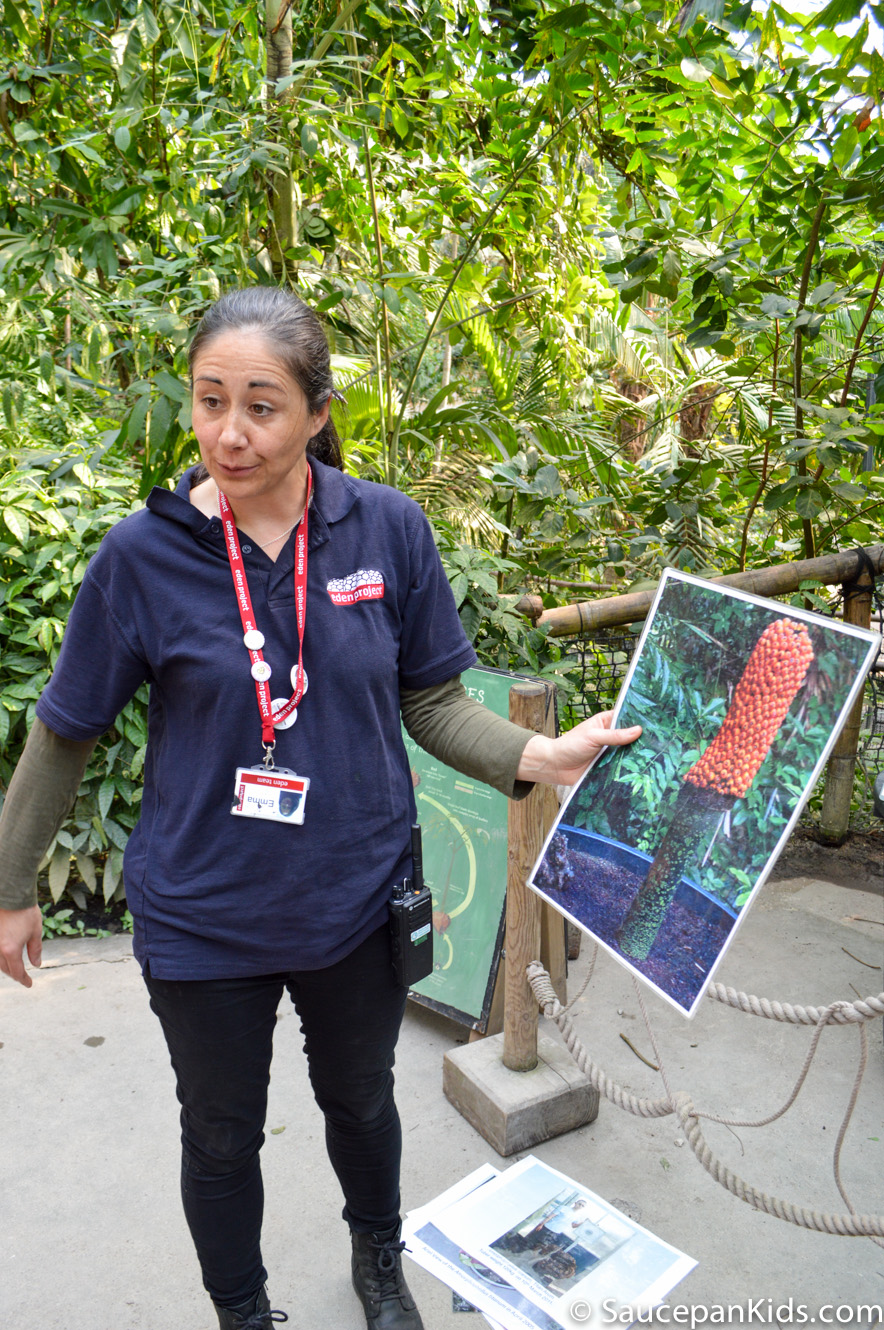 It's the largest flowering structure on Earth, growing up to three metres tall. It only flowers for 48 hours every 7 to 9 years.
Watch this Eden Project video for more on the Titan arum
Canopy Walk
One of our favourite parts of the rainforest biome was the canopy walk. You walk up 64 steps to a suspended walkway at the top of the biome. It's an incredible view down but the temperature increases at the top to at least 40 degrees so we don't stay too long.
Weather Maker
The new Weather Maker section is now open and includes a rope bridge, a cloud bridge and an immersive exhibit where you can shelter from tropical rain storms.
I loved Striking Lightning which is an exhibit demonstrating the the relationship between tropical trees, lightning and climate change. The kids really liked the Transpiration Tree which is an interactive exhibit where you can pump water up a tree to see how it travels through leaves and into the sky to form clouds.
Lunchtime
Between the two biomes is a restaurant which was proving popular however we keep strolling into the next slightly smaller biome, the Mediterranean Biome. We stopped here for lunch when we see the Italian food being prepared in the Med Terrace restaurant just inside the entrance.
We were very impressed with the quality of our food. All freshly prepared by chefs in the open kitchen, tasty and good value. We can all highly recommend the homemade pizzas and the paella.
After lunch, we enjoyed some delicious Cornish ice cream which is actually made with panela (unrefined whole sugar cane) but it was still full of flavour.
The Mediterranean Biome
Here we can walk through the Mediterranean, California, South Africa and Western Australia and discover the incredible plants that grow in these warm temperate climates.
We rested in the citrus grove for a little while to let our lunch go down. Here we enjoyed a story-telling session (check out the times at the entrance). It was a lovely way to spend fifteen minutes.

Afterwards, we strolled through citrus trees, fig trees, olive trees and grape vines. There was a carpet of hundreds of types of tulips – who would've known that so many varieties even existed. I loved the perfume garden and the huge aloe vera plants.
There were some interesting life-sized pigs which were made out of cork oak bark which are rooting around the cork oak trees in the biome. Did you know that cork trees, unlike other trees, don't die when their bark is cut off, so buying products made from cork supports biodiverse industries.
Western Australia Garden
A new addition to the Mediterranean biome this spring is the Western Australia garden which is devoted to some of Australia's most extraordinary plants. You can se the unusual flora that survives in some of the earth's oldest and most infertile soil.
I thought that grass trees were truly remarkable as these trunks are fire-proof but the leaves are not so after a fire, the plants will grow again.
The Core
As we walked from the biomes to education centre, 'The Core', we pass through the picnic areas where people were happily enjoying the sunshine. Dogs are welcomed on leads (not into the biomes) and I'm pleased to see how many families have brought their furry pets along for the trip.
The Core is an incredible building who's roof was based on the same spiral design as a sunflower head. The kids showed that you're never too old to play by entering the building using the secret slide entrance just for kids.
Inside, you can learn about everything from ecosystems and evolution to climate change and plant resources. We spent about fifteen minutes captivated by the giant nutcracker. As you wind it's handle, you learn about energy and processing.
One of the highlights of the Core is the Seed which is a 70-tonne granite sculpture which sits in the middle of the building.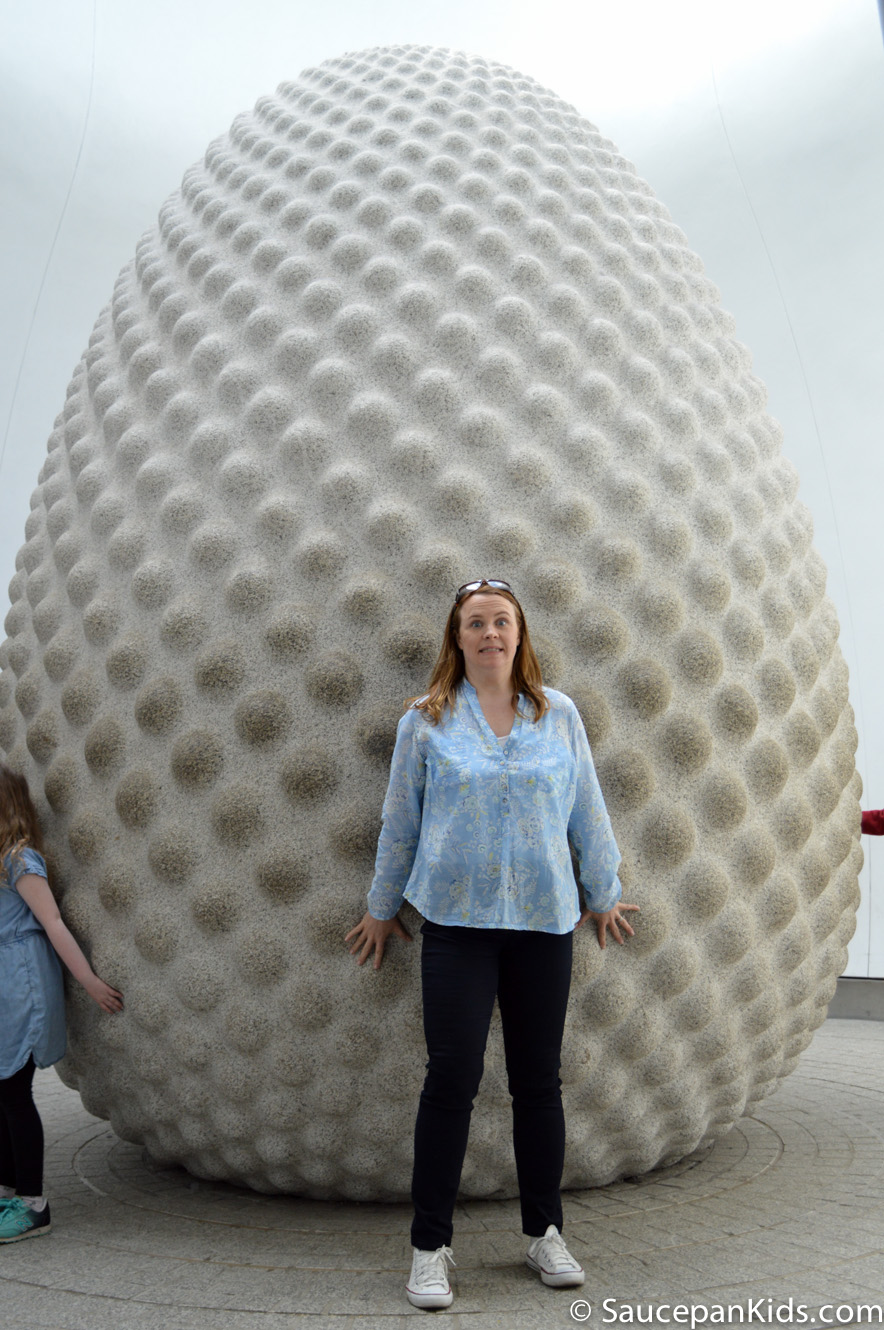 My favourite spot was the marine litter exhibit. Marine plastic pollution is a real environmental issue. Did you know that 8 million tons of plastics 'leak' into the oceans every year, causing harm to marine wildlife – and to humans. The exhibition showed how swimwear, skateboards and even surfboard fins could be made from recycled plastic.
We walked back up to the exit through the"zig-zag through time" which was a winding path showing the evolution of the physical Earth and its plants and animals.
As we walk, we see the huge zipline that crosses Eden. This wasn't for us today but if and when we return, we will hopefully give it a go.
Gift shop
This is one of the best gift shops I'd ever been to. There was every kind of eco-style gift available. We bought pencils (made from old CDs) and a mouse mat (made from old tyres).
As you wander around the gift shop, there are facts cleverly displayed on the wall. Did you know that an area the size of the rainforest biome is destroyed every 10 seconds!
We throughly enjoyed our day out at Eden Project. Having spoken to the kids about it afterwards, we would all highly recommend it for a day out in Cornwall. Allow yourself lots of time, and try to get there as soon as possible after it opens as it's a little quieter in the biomes.
A family ticket (2 adults and 2 children) costs £64 if you buy your ticket in advance. For not much more money, you can buy an annual pass for the whole family to visit as often as you like. If we lived anywhere near Cornwall, we would definitely do that.
Watch the video of our day at Eden Project :
Disclaimer : we were offered a family ticket to visit Eden Project for the purposes of this review. All opinions and photos are our own. Thank you for supporting Saucepan Kids and the brands that support it too.