When you think of European Christmas villages and markets, you'd be forgiven for automatically thinking of countries like Germany and Austria. I'll be honest, Portugal would not have been a potential Christmas destination in my mind however, having spent a few days exploring the Christmas villages of Portugal, I now know I wrong not to consider this Southern European country for a festive visit.
When you fly into Lisbon airport, there may be a tendency to stay in the city or if you fly into Faro airport, you might choose to visit the Algarve. Both areas of Portugal are indeed beautiful and well worth a visit, however when I arrived in Lisbon last week, we headed north towards Center of Portugal to visit their Christmas villages and I can't wait to share my festive findings with you.
Vila Natal in Óbidos – Óbidos Christmas Village
Our Christmas adventure started in the classic Portuguese town of Óbidos. Only an hour's drive north of Lisbon, Óbidos is one of the most popular places to celebrate Christmas in Portugal and people often drive to visit this fortified town from as far away as Spain.
Óbidos is one of the most beautiful and well preserved medieval towns in Portugal and it transforms into Christmas village every year.  Vila Natal, the Christmas market, is not expensive to get in, only €5 for children and €7 for adults. There are free shows, amusements, discos, a fairground, a festive train, face painting and much much more. There are very realistic elves in the village entertaining the visitors and the most authentic looking Father Christmas I'd ever seen. There is an ice-rink and ice slides which are an additional cost but are still good value.
This is a fantastic Christmas village for families with young children.
I would recommend getting here early so you can stroll around the narrow streets of Óbidos and take in over 1,000 years of history and architecture before spending a few hours enjoying all that Vila Natal has to offer. The streets are cobbled but there is a smooth path down the middle to accommodate pushchairs.
Where to stay in Óbidos
I would recommend staying at the Pousada Vila Obidos hotel.  Located just 200 metres from the castle, this stunning 18th century building offers family-friendly accommodation at affordable prices. They don't have many rooms to accommodate larger families so you would have to ask.
Where to eat in Óbidos
For an authentic Óbidos gastronomic experience, head to the family friendly restaurant A Nova Casa de Ramiro located in the centre of the town. Try the 'Top's do lombinho de porco', the black pork tenderloin dish, it was delicious.
Caldas da Rainha's Fruit Market
After leaving Óbidos, I would recommend stopping for a visit to the famous Caldas da Rainha fruit market which takes place every morning in the Praça de República (also known as Praςa das Fruitas). There's a mind-boggling selection of fruit available. I was delighted to be able to pick up a kilo of chestnuts to bring back to Ireland for a fraction of the cost.
The name of this town means Bath of the Queen which represents the thermal springs that the town is famous for. People travelled far and wide to Caldas da Rainha to bath in the medicinal springs. In fact, the old thermal hospital stands regally in the main park which is due to be renovated soon. If you're 'lucky' you'll be able to smell the thermal springs as you stroll though the streets.
Where to eat in Caldas da Rainha
Book well in advance and have a traditional tapas lunch at Casa Antero in central Caldas da Rainha. This tiny tapas taverna is very popular with the locals hence why it's important to book early. It's fantastic quality and value. Try the octopus and squid tapas but beware the portions are huge so don't over order like we did!
Viseu Christmas Market – Viseu Natal
The town of Viseu is know as Portugal's 'Garden City' and they have converted this garden into a winter wonderland with the impressive half a million Caminhos de Luz (street lights) that illuminate the streets. Viseu was once voted Portugal's 'Best place to live' and it feels like they're reminding us all of this fact with the city's festive transformation every Christmas.
Viseu Natal (the Christmas market) takes place in the main Rossio square in Viseu. I loved this market as you could buy gorgeous handmade Portuguese crafts like black pottery, bobbin lace and wrought iron products as well as food and drinks. There is a dedicated children area too on a different level which had a supervised play area, shows and much much more.
Whereas I felt that the Christmas Village in Óbidos was 100% dedicated to children, I believe that the market in Viseu keeps both the parents and their children very happy.
Where to stay in Viseu
I enjoyed my stay at the Pousada Viseu hotel in the centre of the town. It's a large hotel with an excellent breakfast selection, try the french toast, it doesn't look very appetising but it was delicious. If you have a family of four, extra beds can be added to the Premium rooms to accommodate the kids.
If you're looking for a more cost effective family friendly hotel in Viseu, Hotel Grão Vasco was recommended to me. It has a pool and family rooms and is also in the centre of the town so just a short stroll to the Christmas market.
Where to eat in Viseu
The meal I had in Restaurante Muralha da Sé was divine. It's central location makes it easy to walk to and the food was excellent. Considering the quality of the food and its appearance in the Michelin Guide, I was delighted to see that this restaurant was family-friendly with high chairs etc. Make sure you try one of the local wines as Viseu and the region are famous for its Dão Wine.
Cabeça Christmas Eco Village – Aldeia Natal
Our final (and my personal favourite) festive visit was to the stunning eco Christmas village of Cabeça in the region of Seia, Serra da Estrela. This amazing mountain village was the first sustainable Christmas village in Portugal. It's a bit of a trek to get there but when you do you can see why this eco village has become so popular at Christmas time since it was set up six years ago. There is an incredible feeling of community and pride as you stroll around Cabeça. Everyone gets involved. There's a live crib that features local children and various workshops are run where you can learn to make natural soap, bread and Christmas wreaths.
This is a true, back to basics Christmas celebration and a fantastic reminder as to what this festive period is all about. There is no sign of the now ubiquitous commercial Christmas here, all decorations that adorn the streets and the exterior of the houses have been handmade by the residents. You won't find a Father Christmas, candy canes or thousands of gaudy lights here. There are some simple lights used to illuminate your path as you meander through the village however, the residents have invested in low energy LED lights, making them the first location in Portugal to use 100% energy-efficient Christmas lights.
We had the pleasure of watching two local ladies baking bread the old-fashioned way using corn flour harvested from the crops on the terraces that surround this village. It was delicious and they were so proud of their bread, I wish we could've bought some to bring home. We also got to try some pumpkin jam that was made by our guide for the afternoon Celia and her mum and I was delighted to be able to bring home a jar for my own family to try.
At the weekends there are stalls where you can buy craft and local produce while enjoying the natural spectacular of the village.
Aldeia Natal is free to visit and I honestly feel that every family should visit and support this wonderful project and secure a bright and certain future for the residents of Cabeça.
Snow in Portugal
Yes you did read that right, there is snow in Portugal. It is possible to have a white Christmas in Portugal if you head to the Serra da Estrela Natural Park.
On our way to our hotel for the night, we passed the highest point in Portugal, Torre (Serra da Estrela) Trig point. As the children in Portugal were already finished for the Christmas holidays, there were lots of families parking in this area to enjoy skiing as well as just playing in the snow.
Where to stay in Serra da Estrela
My favourite hotel from my stay in Portugal was the Casa Das Penhas Douradas hotel. A stunning four star hotel nestled high in the nordic pine trees of the Serra da Estrela, I felt like I was in a very special place. The plywood makes the hotel seems cosy yet ultra modern and the customer service was incredible. The staff couldn't do enough to make our stay comfortable. The food in the restaurant was one of the best gastronomic moments I had experienced during my visit to Portugal. The 'Confit Veal with celery root puree and asparagus' dish was incredible.
The hotel provides guided walking tours of the area around the hotel and it's definitely worthwhile getting up early and taking advantage of the stunning sunrise photo opportunities.
Unfortunately this hotel doesn't have family rooms however there are interconnecting rooms available so it's possible for a family to enjoy a memorable break here.
Local crafts in Portugal
On our way to Óbidos, we stopped briefly in the very popular surfing town of Peniche to witness the incredible craft of bobbin lace. This craft centre dedicated to bobbin lace was setup to preserve this dying craft (which was been around since the 16th century) and now offers free classes to locals who are interested in learning the skill. I loved the way you can find a 96 year old teaching a 6 year old how to craft these stunning lace creations.
Another popular craft in Portugal is the Burrel wool. We were lucky enough to visit the Burrel factory in Manteigas in the Serra da Estrela Natural Park. The wool is made from the Bordaleira sheep which is the typical breed you'll find in Serra da Estrela.
Some interesting facts about Christmas in Portugal
Christmas in Portugal takes place on the evening of December 24th and often crosses over to December 25th. Many families go to midnight mass (Missa do Galo) and a big part of this mass is kissing the statue of baby Jesus.
In the Center of Portugal, it's popular for there to be a large communal fire in the church car park. It gives everyone in the community a chance to gather around the fire on December 24th and wish each other a "Feliz Natal" (Merry Christmas). We saw these fires being setup when we visited many towns.
On January 6th, Christmas is officially over. Everything is taken down, the decorations, the lights and the crib.
Festive food in Portugal
In Portugal they have two Christmas cakes, the Bolo Rei and Bolo Rainha, two bread like fruit cakes that are made of dried fruits and nuts. The Bolo Rei (King cake) also has extra dried fruits on top. The Bolo Rainha (Queen cake) doesn't have the dried fruits, but replaces these with extra nuts. These cakes are mainly eaten between Christmas and January 6th, when the three wise men arrive, but you'll find people eating them in the weeks leading up to Christmas. I bought a Bolo Rainha to bring back to Ireland and we enjoyed a slice of it on Christmas Eve and it was a little dry but tasty.
As Portugal is a Catholic country, they tend to have fish on Christmas Eve. The bacalhau (dried and salted cod) is a national dish and they cook it in thousands of different ways. On Christmas Day itself, many families enjoy a meat dish like turkey, lamb or cabrito assado (baby goat). Some families will have bacalhau again.
A popular cheese in this region is the Serra da Estrela cheese which is made from sheep's milk, mostly during the months of November to March. The sheep breed that produces this milk is the Bordaleira sheep who's wool is also used to produce Burel wool products.
You can't visit Portugal without trying a Pastel de nata, also known as Portuguese egg custard tart. They're so popular you can even buy them in shops in Ireland now.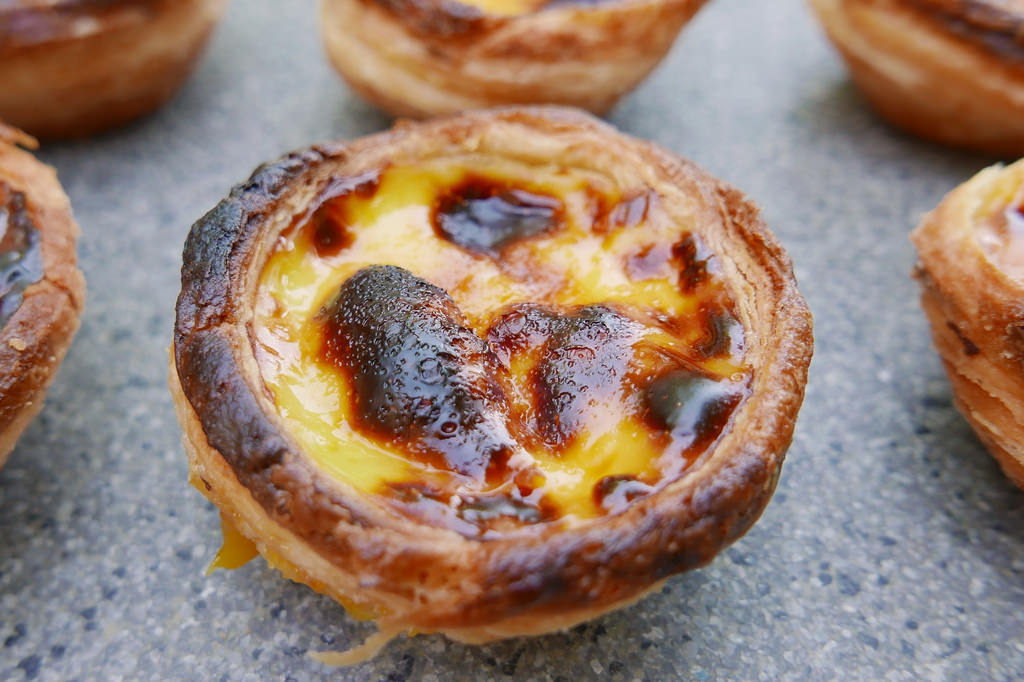 Festive drinks in Portugal
The first thing that people think of when they think of Portugese drinks is port however many people don't realise that there are many different types of Port, vintage, ruby, tawny white, LBV etc.
As well as Port, Ginjinha is a popular drink to add to your festive shopping list. It's a Portuguese alcoholic drink made from sour cherries that is often served in a chocolate cup. Ginjinha is found predominantly in its home city of Lisbon but is also a tradition in Óbidos.
Christmas in Portugal
Portugal is a very special country to visit during the festive period and I would highly recommend taking the kids there to visit one of the Christmas markets or villages.
As Christmas lasts right up until January 6th, I'm already thinking about returning to spend New Year in Portugal with my own children next Christmas.
Will you be consider Portugal for a festive trip with your family?
Disclaimer – I was a guest of Visit Portugal for the duration of my visit to the Center of Portugal. All words and images are my own unless otherwise stated.