9/11 Memorial with One World Observatory Tour Review – Take Walks NYC
Posted on 4th June 2019 by Debbie No comments
We all remember where we were on 9/11 when we heard about the terrible events that were unfolding in New York. The whole world watched in silence as the Twin Towers were attacked and collapsed. The events of that tragic day are engrained in every American and changed the country forever.
We had spoken to our children before about those terrorist attacks and we knew that during our visit to New York my husband and I would want to visit Ground Zero and remember those that were killed that day. We felt that a good way to truly understand what happened was to take part in a 9/11 memorial walking tour so we booked our family of five onto the 9/11 Memorial Tour with Priority Entrance Observatory Tickets.  with Take Walks.
We've done tours with Take Walks before when we were in Italy and always found their tours to be really interesting and informative.
9/11 Memorial Tour
Our two hour 9/11 Memorial tour began on the steps of St. Peter's Roman Catholic Church, at 22 Barclay Street at the corner of Church Street in the Financial District of Manhattan.
Our tour guide was a lovely local woman called Catherine who lives nearby. She told us all how she watched the tragic events unfold that day from her apartment window.  After 9/11, she had to move out of her home as her apartment was in the red zone and deemed a dangerous place to be. She explained in detail what happened that day, the timings and the damage to the buildings, but in a respectful, appropriate and meaningful way.
St. Peter's Church
In the rubble of debris around the Twin Towers, a cross was found was mounted outside the church as as symbol of hope. It remained there will 2011 when it was moved to the September 11th Memorial & Museum at the former World Trade Center site across the street.
It was replaced with a cross which was formed from the steel girders of the previously standing Twin Towers. Below the 9/11 cross is a book which contains the names of the 2,996 people who lost their life that faithful day.
We then walked to World Trade Centre building number seven where Catherine showed us a fountain which was dedicated to the survivors . I loved the art installation that was inside the lobby of building number seven as it was displaying poetry from American poets. It was a lovely tribute to those survivors and a place where locals could come and reflect in peace.
Occulus
The World Trade Center Transportation Hub replaced the PATH train station that was destroyed during the 9/11 terrorist attacks. Its center-piece is the Oculus, an incredible glass and steel structure designed by Spanish architect Santiago Calatrava. It looks like a dove being released from a pair of hands although other people report it resembling bones or a pair of claws.
The hub allows access to all World Trade Centre buildings underground if you are an employee.
You're bound to be impressed with this $4 billion building. It acts like a modern day Newgrange. The building was designed in such a way that the skylight opens on September 11 at exactly 10:28 a.m., the same time the North Tower fell in 2001. This annual occurrence is known as the "Way of Light," and brings sunlight across the floor resembling the statuesque Twin Towers.
St. Paul's Chapel
We then walked across the road to lucky St. Paul's Chapel. I say lucky because this small brownstone chapel which is nestled among the towering skyscrapers has survived attack not once but twice.
Nicknamed, "The Little Chapel That Stood",  St. Paul's chapel is one of the oldest and most historically significant buildings in New York City.  In fact, George Washington prayed here after taking the oath of office at Federal Hall.
The first time the church survived a major disaster it was the Great New York City Fire of 1776.
The second time, the church was actually saved from total destruction during 9/11 by a large Sycamore tree which meant that it was one of the few buildings around Ground Zero left standing. It was a miracle. There wasn't a broken pane of glass or a scratch on the building. Due to it's proximity to the Twin Towers site, the chapel served as an important relief center for first responders on 9/11 and that continued for a further year after the attacks.
The symbolic Bell of Hope was a gift from London and was installed in the churchyard of St. Paul's Chapel in September 2002. The Bell of Hope is rung every year on September 11th to remember those who lost their life that day.
The Sphere
In Liberty Park, the 'Sphere' which originally stood between the Twin Towers as a symbol of world peace and trade was badly damaged in 9/11. However it was decided that instead of repairing it, it should be kept and displayed as it is as a reminder of how America will not be defeated.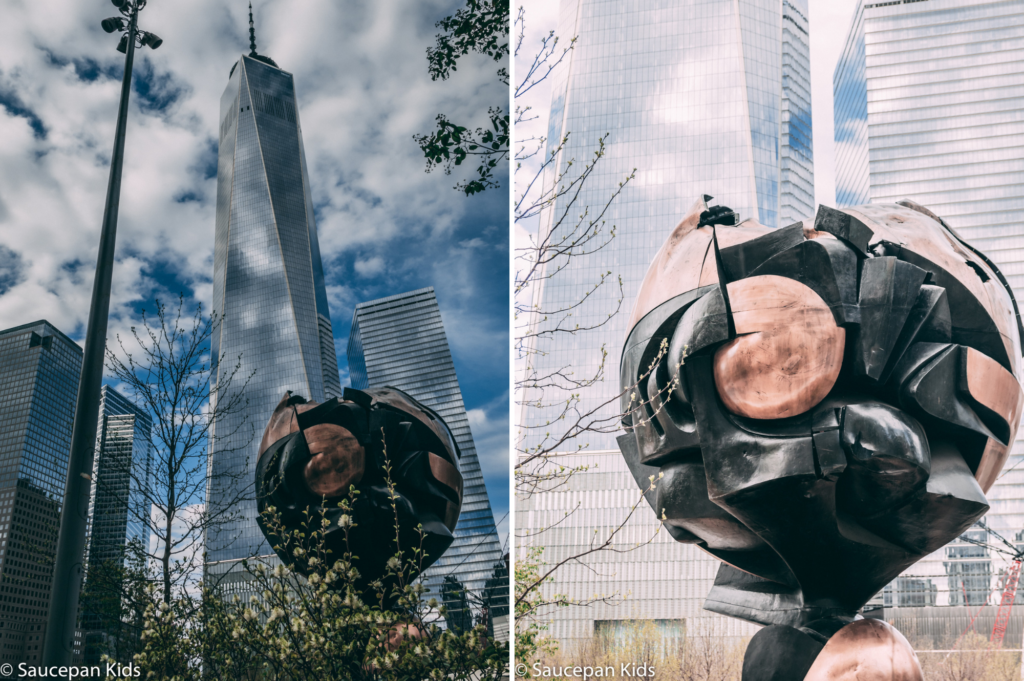 Reflecting Pools
Designed by architect Michael Arad and landscape architect Peter Walker, the twin reflecting pools are nearly an acre each in size and are the largest manmade waterfalls in North America. The pools sit where the Twin Towers once stood.
Catherine told us that the names of every person who died in the 2001 (and 1993) attacks are inscribed into bronze panels edging the Memorial pools. It is a sombre and special place. You cannot describe the atmosphere there. My kids said that they found it very peaceful and that it must be nice for the families to have a place like this to come and remember their loved ones.
One World Observatory
The tour includes priority entrance tickets to the One World Observatory. This is where we said goodbye to our Walks guide Catherine and we made our way across Ground Zero to the One World Trade Center.
This building is the tallest building in the Western Hemisphere. The queues were really long to get in so I would definitely recommend booking your tickets in advance if you aren't going as part of a Take Walks NYC tour.
To get up to the One World Observatory, you ride up the Sky Pod elevator where you experience an immersive, floor-to-ceiling time-lapse story of New York's 500-year evolution in less than a minute. Then you enjoy an audio visual show before progressing to the 360-degree main observation area on the 100th floor.
On a clear day, you can see for fifty miles beyond New York City. Take your time and enjoy a coffee or some food whilst taking in the views.
It was a little crowded up there for me but the views were worth it.
The Survivor Tree
A pear tree became known as the "Survivor Tree" after 9/11. In October 2001, the tree was discovered at Ground Zero and although it had been severely damaged, it was possible to salvage it.
The tree was removed from the rubble and placed in the care of the New York City Department of Parks and Recreation. After its recovery, the tree was returned to Ground Zero in 2010.
Final Thoughts
I found this tour to be inspiring and informative and I would highly recommend that all families with teenagers who are visiting New York City book this 9/11 Memorial with One World Observatory tour. I loved the fact that the over-riding focus of the whole tour was to highlight the heroics of those who came to the rescue of those caught up in the aftermath of the event and not dwelling on the tragic event itself.
Disclaimer – Thank you to Take Walks for providing us with this 9/11 Memorial with One World Observatory tour for the purposes of this review. This review is, as always, 100% honest and our own opinion.