The kids were off on a scouts camping weekend so James and I headed off to the big schmoke to try out the 'Taste of Dublin Festival'. We've not been before but we'd heard great things about it so we thought we'd pop along and see what all the fuss was about.
It was located in the Iveagh Gardens just behind the National Concert Hall (thanks Google Maps) and was the perfect venue for the festival. Mind you, we were lucky with the weather, I don't know how good a venue it would've been if the Irish weather had been its usual unpredictable self.
Firstly a word of warning to anyone bringing a buggy, it's not the most child friendly of terrains, stoney gravel and lots of plastic gradients covering the miles of electricity wires that were needed to power the event.
Also, make sure you're hungry when you attend as there was representation from a huge selection of Irish restaurants (not just Dublin) where you can try out little dishes from €4 to €8. We tried a few, my favourite was the 'Dublin bay Prawns in a smoked paprika and chill butter, crispy croute' by gastropub The Chop House and also the 'Ballinwillin Wild Boar, Apple and Prune Strudel' from The Hot Stove. Some of the restaurants had quite long queues but Just Eat had teams of people who would wait in line for you, what a clever idea!
Talking of novelty ideas, the only currency that people could use at the festival was 'florins'. 1 florin was equivalent to €1 and you could buy your book of florins from lots of Bank of Ireland stands around the Iveagh Gardens.
I would recommend leaving the car at home too as you can sample everything from gin, wine, craft beer to cocktails. In fact, it felt like there were more beverage exhibitors than food but maybe that's because I was driving!!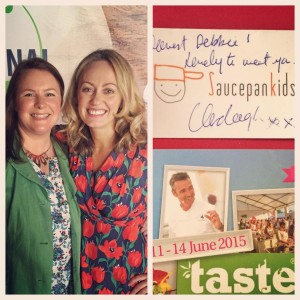 During the course of the festival, there were chefs running demonstrations and also smaller more intimate talks from other key individuals in the industry. I saw Monica Galetti from La Gavroche in the main Electrolux tent and Clodagh McKenna making Garlic Butter in the National Dairy Council tent and even got to chat to Clodagh herself.
There were also practical things to do too like the Sushi making masterclass at the Sony stand with Japanese expert Fiona Uyema.
Ticket prices start at €15 ex. booking fees which means that it's not a cheap day out if you're bringing the I highly recommend the festival as a family day out. We'll definitely be bringing the kids next year as there was live music in the main grassy area and lots of fun things for the kids to do.
I would like to have tried out the Secret Ingredient section or listened to more industry experts talk at Life's Table Talks. Still there's always next year.
Were you at Taste of Dublin 2015? Did you enjoy it?
Disclosure: We were invited to attend 'Taste of Dublin Festival 2015' as guests for the purpose of this review. All words and opinions are honest and strictly our own.