Neven Maguire's Cookery School, which opened in January 2014, is located in Blacklion in Co. Cavan right next door to the very popular MacNean House and Restaurant. They provide many different types of cookery courses including cooking for friends, entertaining made easy and mastering meat.
Last Saturday, Fraser and I headed to the cookery school to attend the half day parent and child course.
When we arrived we were treated to tea and coffee (for the parents) and homemade scones and madeleines. The children were also given an apron and recipe booklet with details of the dishes we would be preparing that morning.
The cookery school itself is quite small but perfectly formed. It's stylishly decorated and laid out with modern induction hobs and top of the range Miele ovens (I had serious kitchen equipment envy).
At 10am, Neven bounced into the room and instantly put the kids (and parents) at ease chatting warmly about his love of cooking, how he is from a large family and also how he likes to feed his own young family.
During the first hour Neven cooked five dishes and talked in-depth about the different ingredients he was using. I definitely picked up some great tips.
During the demonstration, Neven talked about the wonderful Irish suppliers that he uses for his restaurant next door, like Thai Gold based in Wexford and BD Foods based in Monaghan.
After the demo was over it was our turn to cook and Fraser was delighted as we got to cook at Neven's station.
The first dish we prepared was chocolate and pecan brownies. All the ingredients were pre-weighed out and measured for us by Neven's right hand woman Claire who kept us all supplied with everything we needed all morning.
Claire was so lovely to Fraser and all the kids, she was incredibly patient with us parents too making the morning even more special. Fraser even said to me at one point that she should have her own cookery school. Watch out Neven 🙂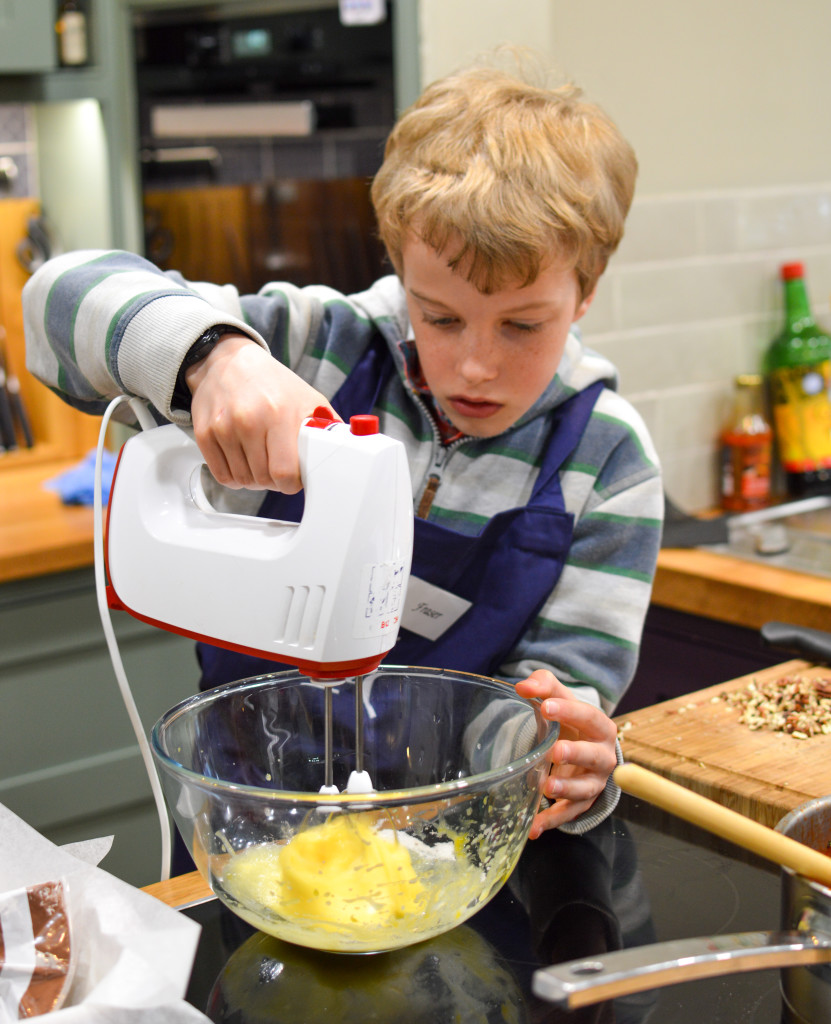 Fraser led our cooking efforts, instructing me on what needed to be done next. It was great to see that he had been following Neven's demonstration earlier so diligently.
After the chocolate brownie was put in the oven, we started to make pizza pittas which were a quick alternative to pizzas.
Neven had already made the tomato sauce in the demo so we just had to assemble our pizzas. There were a selection of toppings available including lots of different types of cheeses.
Then we started with our salmon parcels. We first had to create the Asian dressing and then create our parcel – this parcel lark was trickier than it looked. All the time Neven was checking with everyone that we were all on track and if we needed any help.
The next dish (my favourite) was the beef stir fry. This time we had to prepare the striplion beef and vegetables ourselves which Fraser was glad about as he was looking forward to trying out Neven's knives!
The final dish we made was strawberry and pineapple kebabs with spun sugar. A real treat for the everyone and the kids loved making the delicate spun sugar cases.
When we were finished, the kids got to keep their aprons and we also got a fab goodie bag with a signed cookbook, a bottle of Donegal Rapeseed Oil and a bottle of Thai Gold Sweet Chilli Sauce (our favourite type). We also got to take home all the food we made which was a real treat for the rest of the family back in Sligo.
Before we left Blacklion we popped up to see the stunning polytunnels that keep the restaurant supplied with fresh vegetables. Neven had told us all about Kevin the gardener who was really proud of his 15 different types of salad leaves.
We both loved the whole experience (see Fraser's review below). The course costs €200 for both parent and child which although seemed steep to me before I went on the course, I do now feel that the course is really good value as it was such a fun and educational morning. We both learned a lot and came home with so much food and a huge enthusiasm for cooking good food together. I'm definitely going to be booking it in the summer to take Fraser's twin sister along.
Fraser and I got talking to Neven about Saucepan Kids and it was really nice to see how similar his ethos is to ours in terms of the importance of cooking real food together as a family.
Thank to Neven and the team at MacNean House and Restaurant for inviting us to attend and review the course. We loved it and I would highly recommend it to all parents. There was no age restriction but I would suggest that any child aged 9 and up would love it.
"I think it was really good and Neven gave us some brilliant advice like when when making tomato sauce for pasta or pizza try and use those plum tomatoes as they're a little sweeter or else you might have to put a pinch of brown sugar in the sauce. My favourite thing we made was the chocolate and pecan brownies, they were really yummy. It was really great that we got to keep the apron and we even got a signed cookbook. I would like to go back again." Fraser (aged 10)
Click here for a list of the upcoming courses at Neven Maguire's Cookery School. Follow them on Twitter or like them on Facebook.
Disclaimer – We were invited by Neven Maguire Cookery School to attend the parent and child course for the purpose of this review. As always, this review is 100% our own words and our honest opinion.