I have visited Venice before, with James, for my 40th birthday. I truly fell in love with the city and always said that when the kids were old enough to appreciate it, I would take them so when Halldis offered us the chance to review their new family friendly accommodation there, we jumped at the chance.
Getting to Venice with kids
There are two airports in Venice, Marco Polo airport is really close to Venice, Treviso airport isn't quite so close. Can you guess which one Ryanair flys into?
There are different ways to get to Venice from the mainland, you can get the train, get a bus over the bridge, drive over the bridge (very expensive parking) or you can get the Alilaguna airport boat or a private water taxi.
We had spent a few weeks visiting other parts of Northern Italy so we arrived at Marco Polo airport not by plane but by hire car. When we dropped off the car, we headed straight into the arrivals terminal to book a private water taxi to take us over to the island.
It's not cheap at all, it costs about €110 one way, and we decided to pay an €50 for the driver to take us down the Grand Canal so we could see all the sights as we entered Venice.
We actually booked a return water taxi too as we got a good discount on our return journey. A private water taxi will accommodate up to ten passengers so if you are a larger family or two families travelling together this is actually an economical option.
It's a 20 minute walk from the airport to the harbour where our private water taxi was waiting for us. As we zoomed into Venice, it felt like we were extras in a James Bond movie. It gave us the opportunity to see Venice in all her glory and we were dropped off at the closest point possible for our accommodation, just a few minutes walk away from our Halldis apartment.
Staying in Venice with kids
You can stay in one of the thousands of hotels on Venice but with a family, self catering in my opinion is always better. When we got to our accommodation, we were welcomed by Federico who showed us around our stunning 3 bedroom self catering apartment which was laid out over two levels.
The living quarters were upstairs which led out to a large balcony with stunning views over Venice.
The bedrooms were downstairs in the cooler part of the apartment. We quickly unpacked and headed out to the nearest small grocery shop to stock up on some provisions. The apartment was ultra modern and catered for everything a family could need. It is a little off the beaten track, but is still central enough to allow us to walk everywhere we wanted to go.
After visiting busy cities like Rome and Florence, it was such a relief to be walking in a place where there are no cars, mopeds or even bicycles. The kids could wander ahead safely and I could relax.
Getting around Venice with kids
There are four ways to get around Venice :
Vaperetto
This is the public water bus and is a good option for taking tired children around Venice however it's not cheap. A 100 minute, essentially one-way, ticket costs €7 per person and there is no discount for children, however it is free for under six year olds.
You can buy unlimited travel day tickets for €20 which are worth investing in if you are planning on visiting lots of places and they also include transfers to the neighbouring islands. Line 1 goes up and down the Grand Canal. For fares and route details, check out the ACTV website.
Walking
This really is the best way to get around Venice. Let yourself get lost (and you will get lost) and make sure you sometimes leave the busy tourist parts. It is amazing how one minute you can be in a bustling street and around a corner, you could be the only people navigating the narrow streets.
We often let the kids lead and they loved getting us well and truly lost. Thank goodness for Google Maps for helping us find our way back!
Unfortunately Venice is not a buggy friendly place to visit. Venice is actually made up of hundreds of islands in a lagoon and these islands are all connected by bridges so if you have a buggy with you, be prepared for alot of lifting over all those bridges!
Gondola Ride
A gondola holds up to six people and there are plenty of places around Venice where you can hire a gondola. It costs about €80 for 30 minutes. If you do the tourist thing and hire one, get the gondolier to stay off the Grand Canal and explore the smaller canals otherwise you might as well have got the vaperetto. Evening is meant to be a lovely time to enjoy a gondola ride.
Traghetto
An alternative to a gondola, a traghetto is a large gondola taxi (with two gondoliers) used for transporting people across the Grand Canal.
It only costs €2 per person and is a fun (and slightly scary!) thing to do with the kids. Passengers usually stand up but you don't have to.
Places to visit with kids
Peggy Guggenheim Museum
I would highly recommend visiting this museum. It's a stunning location with an assortment of Pollock, Kandinsky and Picasso paintings on display.
It's amazing to think that Peggy Guggenheim actually lived there herself with her private art collection. She's buried in the garden on the grounds alongside her dogs. My three were fascinated with the modern art paintings and the sculptures in the garden.
The museum is closed on Tuesdays and under-10s are free to get in. I have to say that the view of the canal is one of the best in Venice in my opinion. You can buy tickets in advance from their website here.
Burano and Murano Islands
You can take a Vaperetto (water bus) out to visit these islands. Burano is famous for its lace and its colourful buildings and Murano is well known around the world for its glass.
St. Mark's Bascilica
Entrance to St. Mark's Bascilica is free but you can expect long long queues. The only benefit to the long queue is that you will get the opportunity to look at the incredible exterior facades.
To avoid long queues, you can buy a timed entrance ticket online alternatively you can book a guided tour with a company like the Best of Venice and Doge's Palace Tour with City Wonders to bypass the queues.
Beware that St. Mark's adopt a very strict dress code, no hats and no shoulders and knees can be on display. If you are wearing short shorts and a sleeveless top, you can still go in but you will have to buy a paper sheet for €1 to wrap around you to ensure that you are being respectful.
I recommend climbing up the stairs (just inside the entrance to St. Mark's) and visiting the Museo di San Marco (San Marco Museum). It gives the perfect view of the stunning golden mosaics on the ceiling.
Then go out on the terrace and try to time it for when the clock in the square will strike on the hour. The statues actually move to hit the bell. Back downstairs in the Bascilica, try to see the Pala d'Oro and sarcophagus of St. Mark.
Doge's Palace
As you stroll through the the Doge's private apartments, you will see even more great works of art by famous artists like Tintoretto, Veronese and Titian.
Kids may not be that interested in this however my three loved the armoury, as the weaponry and suits of armour are all on display.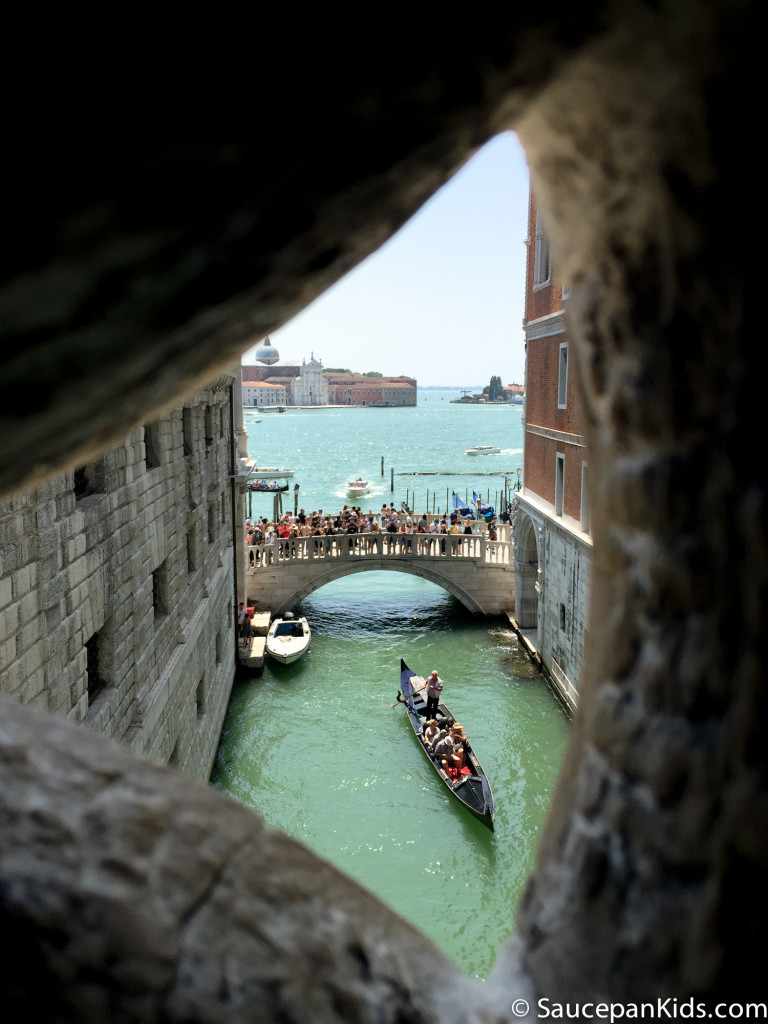 They also loved exploring the secret passageways, the prison cells and the bridge of sighs.
Scuola Grande di San Rocco
The older kids should appreciate the drama of the paintings on display here painted by Tintoretto. As they are on the ceiling of the Upper Hall, the best way to view them is by looking into a hand held mirror to avoid a strained neck.
Go to a concert
My favourite composer Antonio Vivaldi was born in Venice.
One of his most famous pieces, the Four Seasons, is often performed by Interpreti Veneziani in  the Chiesa di San Vidal church.
We bought our tickets online in advance and it was a wonderful evening of classical music. The kids all loved it.
Consider booking a tour
We booked the 'Venice Food Tour' with Walks of Italy where we went to the Rialto Food Market and various food locations.
We learned so much about local culture and local cuisine. I can also recommend the 'Best of Venice Tour' with City Wonders  where we were shown the real history behind the city. This tour also included the skip the line access into St. Mark's Basilica and the Doge's Palace which was a relief when I saw the huge queue curling around the square.
Watch out for the lion
St. Mark is the patron saint of Venice and his body is buried in the Basilica of San Marco. St. Mark is always represented as a winged lion so get the kids to keep an eye out for the winged lions all around Venice. You'll find them on door handles, statues, gates, flags and even gondolas. It's a fun way to keep the little ones entertained as you wander round.
Eating in Venice
You should definitely try cicchetti which are small snacks typically served in traditional 'bacari' or osteries.
Our favourite cicchetti, having sampled quite a few, were 'baccala' (which is dried and salted cod), polpette (meatballs) and the cured ham panini (small sandwiches). Really good value and delicious washed down with a cold glass of local Prosecco (only €2 per glass!).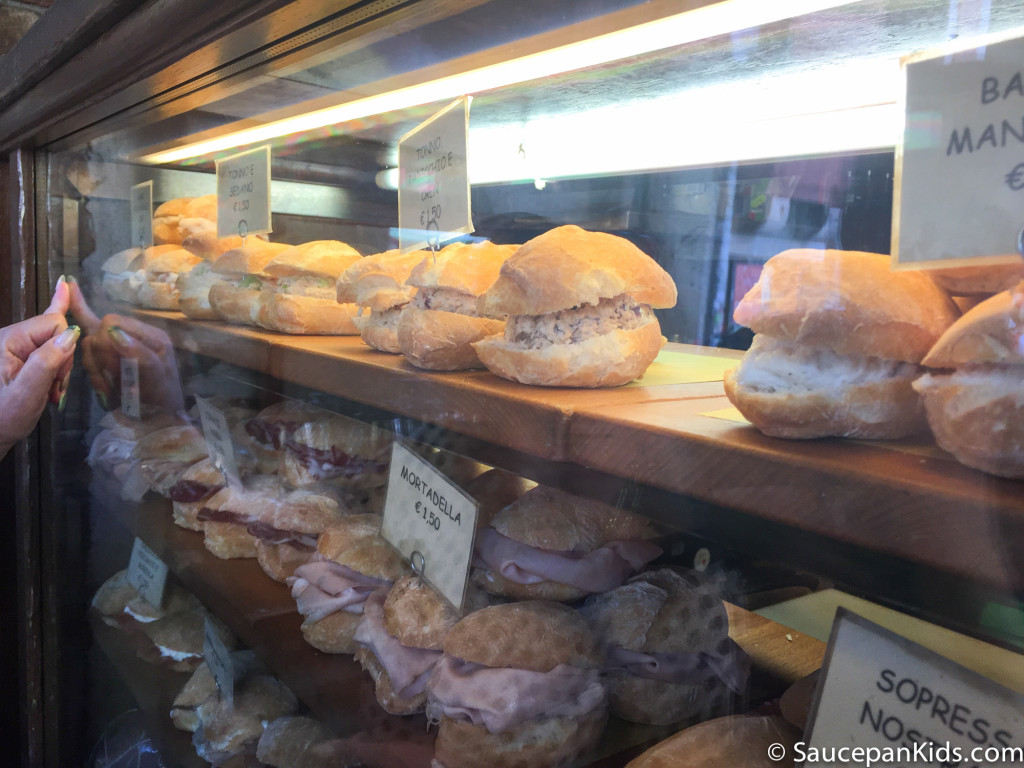 There are countless osteries and one of our favourites was Al Merca, very close to the Rialto market.
We found an amazing hidden away restaurant called Taverna del Campiello Remer for lunch where we had black squid pasta, a real speciality of the Venice. It must have been a good restaurant as there were gondoliers eating there!
Bring a water bottle out with you when you explore as there are water fountains around the city providing free (good quality) drinking water from a sculpted cast iron spout.
Gelato
We found some of the best gelato we had on our Italian trip in Venice, our absolute favourite, including the kids, was an incredible noce e fichi (walnut and fig) gelato at Gelato di Natura. We have promised ourselves to try to make this gelato ourselves at home.
Be aware of cover charges at restaurants, cafes and gelato shops, if each of your family of five have a €2 gelato, it can cost over €20 if you sit down outside at their tables. I would recommend walking to the nearest campo (small square) and relaxing on the benches there instead.
Venice is an amazing city to visit with the children. Instead of staying in a hotel, why not book a spacious modern self catering apartment like the Smeraldina apartments centrally located near Venice train station. This gives you the freedom to visit the Rialto food market, buy some local ingredients and cook like a true venetian. It also gives you room as a family to spread out and ensure that you're not all on top of each other.
Disclaimer – our accommodation in Venice was provided by Halldis for the purposes of this review. This review is, as always, 100% honest and our own opinion.
To find out more about Halldis and to book your own Italian adventure, visit them http://www.halldis.com/