On the east coast of Italy, by the Adriatic sea, in the region of Emila-Romagna, is the seaside resort of Marina di Ravenna. Close to the picturesque town of Ravenna, Marina di Ravenna is a very popular holiday destination for Italians. We noticed that not everyone speaks English which I like as I feel that you're seeing a part of the real Italy and not just the usual tourist haunts.
The town of Marina di Ravenna is home to the harbour of Ravenna called Marinara which makes the town an important regatta destination for sailors.
Where to stay in Marina di Ravenna with the kids
We booked a modern two bedroom apartment in a complex right by Marinara harbour through with Italian company Halldis. Our Halldis check-in representative Anna met us and showed us to our apartment. It was a compact apartment on the first floor, with a lovely view of the marina, the private swimming pool and the Adriatic sea from the apartment's balcony. There is a private car park for the apartment complex about two minutes walk from the apartment and a lift in the building which made getting our luggage up and downstairs easy.
The balcony was a little small for all of us to sit out on as there was a large air conditioning unit on it which took up a lot of space, however the air con in the apartment worked really well and was welcomed after a hot day in the sun. This being said the balcony was still a lovely, relaxing place to sit at any time of the day and enjoy the view.
This apartment was the perfect location for everything family could need. It was a few minutes walk from the beach, a few minutes walk from the touristy town of Marina Di Ravenna and the icing on the cake was that there was a large supermarket a minute's walk away which was very handy for picking up provisions.
Our three kids slept in the two bedrooms and James and I stayed on the soda bed in the living room. I'm not normally a fan of soda beds but this one was really comfortable and I was quite sleeping there for the duration of our stay.
The small but well equipped kitchen was perfect for us and we cooked up some very tasty meals in it.
We only had one bathroom in this particular apartment but I know that there are apartments available with two. It was very clean and the shower was excellent. It also housed the washing machine which was great as it meant we could keep our packing light! Fluffy towels and bedlinen was also provided.
Top things to do in Marina di Ravenna with the family
The beach
The first place we visited when we arrived was the beach. Having visited a few cities, we were really keen to have a swim in the Adriatic.
The beach was miles and miles long, however not all of it was open to the public. Parts of the beach seemed to be privately owned by local restaurants and cafes, where you could rent parasols and sun-loungers.
The public part of the beach was clean and quiet, however I can imagine that it would be busy in high season.
The water was clear and safe as it was quite shallow which made it suitable for little ones to enjoy. I was pleased to see lifeguards located at every half kilometre point which is very reassuring for families.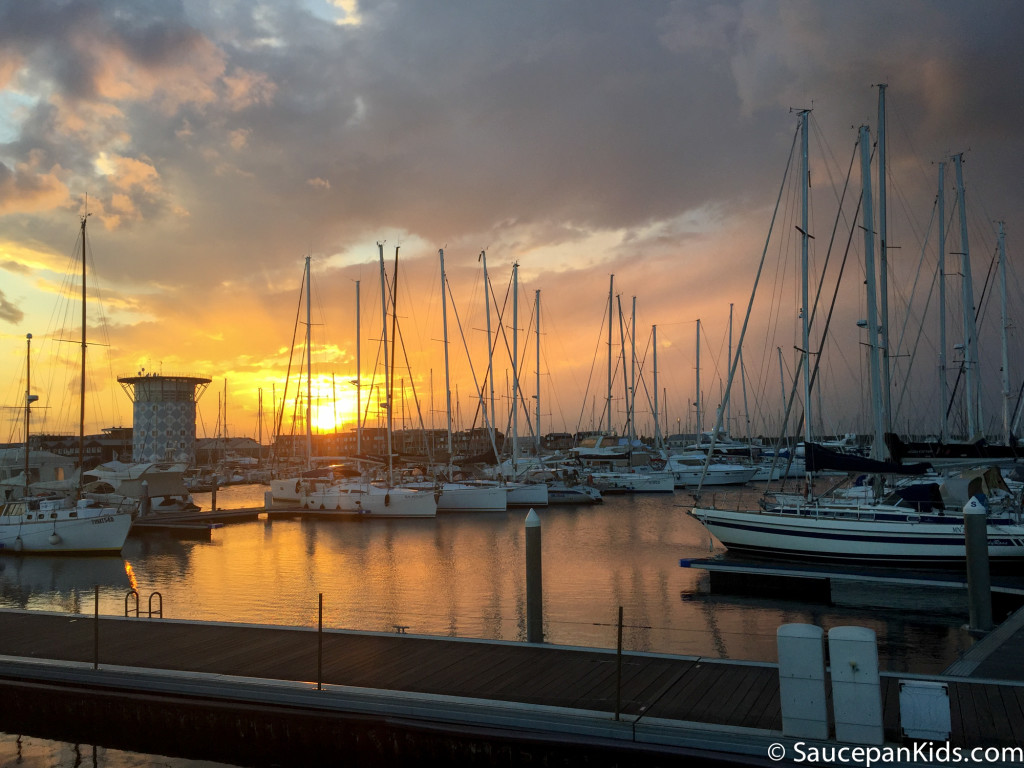 In the evening you can grab a gelato, explore the Marinara harbour and watch the sun set. We would go for a walk along the pier that runs beside the marina. It was interesting to watch the fishing huts that are like large sheds built on stilts in the water next to the pier. They had large fishing nets that they were raising and lowering into the sea catching fish.
Mirabilandia
This is the largest amusement park in Italy and is located in an area called Savio, about 25 minutes drive from Marina di Ravenna. We had read great things about this park so we have to visit.
We headed off early to be there for when it opened at 10am. The park is huge, about 30 hectares so there's literally something for everyone at Mirabilandia. There were incredible rides, some of which were a bit too extreme for us wimps! Our family favourite ride was the log flume Autosplash which we all went on about 5 times. The giant ferris wheel was also worth trying, it offered stunning views of the park and surrounding area. Once the ferris wheel had safely deposited us all back on terra firma we headed to the 'Hot Wheels' show. I had read in advance that this show, which only happens twice a day, was well worth a visit. They were right, it was amazing, there were lots of cool cars performing lots of stunts, fireworks and explosions.
We visited the park in mid June and it was reasonably quiet but only a few minutes to wait for the rides however judging by the queuing facilities it looks like it could get alot busier in high season. It's very clever the way they lay out the park, it's luscious landscapes mean that you can't tell how busy the park actually is.
There is a water park attached called Mirabilandia beach however we didn't visit this as we had tickets for Aquafan water park which we had planned to visit the next day.
We visited Orlando a few years ago however I felt this was on a par with some of the parks there. We all had so much fun there.
Have a splash at Aquafan water park
We headed an hour south along the coast towards Rimini to go to Aquafan water park. The park was celebrating it's 30th birthday and was looking forward to a busy high season. We visited the park in the week before high season starts and it felt like we had the park to ourselves.
We checked our valuables into the locker facility and based ourselves on sun loungers by the wave pool and headed off around the park to try out the different water slides.
There was a great selection of rides for all ages and catering from the young to the very brave!. The whirlpool and vertical drop were probably our favourites and we spent a lot of time on them.  The day started off well however the weather changed at 1pm, the heavens opened and we were stuck under our parasols trying to keep dry!! We still enjoyed our few hours at Aquafan and would recommend it to any family visiting Emila Romagna.
Visiting Ravenna with the family
Near Marina di Ravenna is the quaint town of Ravenna which is world renowned for it's mosaics.
Joining the UNESCO world heritage list in 1996, Ravenna's Tamo museum in the town centre run children's mosaic workshops. The 'Dolls Museum' is also worth a visit. It contains toys and dolls dating back to as early as 1860.
Where to eat in Marina di Ravenna
Our eldest turned 13 when we staying in Marina di Ravenna and it was her birthday wish to go out for pizza, a request easily met in Italy!
After consulting Tripadvisor, we headed to Pizzaria Saporetti, a few minutes walk from our apartment. The menu was pizza after pizza after pizza, in fact there was too much choice. It was a tough choice but we all enjoyed what we had chosen. The restaurant even had a big lego corner for younger kids to play in while they waited for their food. Of course, my two 11 year olds had to check it out for research purposes!
On our second night there, Marina di Ravenna was hosting an annual cookery event called Cous Cous, with live cookery demonstrations and a enormous dining marquee. There was also a street market which stretched right down the main shopping street. Where had all this people come from, this was a far cry from the quiet town we arrived into.I believe the town becomes much livelier in the summer months with live music in many bars and restaurants, perfect for the family looking for some evening entertainment.
What local dishes to try?
Two local dishes worth trying when you visit this town in Emila Romagna are the pasta dish cappelletti and the flatbread of the region called Piadina.
We visited the nearby town of Ravenna to visit Piado Cupida to try their infamous Piadina. We enjoyed various flavours of Piadina with parma ham, rocket, pecorino and squacquerone cheese which is a local cottage cheese which was recommended to eat. It was delicious. We even bought some Piadina to bring back to the apartment.
For dessert there, the owners recommended that we try Piadinas with a sweet filling, the children had nutella and James and I had the  squacquerone cheese and fig filling with a drizzle of honey which one of the nicest things I'd ever tried. If we could get fresh figs at home in Ireland, I would definitely be making this myself.
If you're looking for an Italian holiday close to the beach, then Marina Di Ravenna really has it all. The Galla Placidia apartments are in the perfect location and provide everything you could possibly need to ensure a memorable family holiday for everyone.
Disclaimer – our accommodation at Marina di Ravenna was provided by Halldis  for the purpose of this review. This review is as always 100% honest and our own opinion.
To find out more about Halldis and to book your own Italian adventure, visit them http://www.halldis.com/