Lake Garda is one of northern Italy's most popular holiday destinations. It also happens to be Italy's largest freshwater lake.
Having spent nearly a week there with my three children (aged 11, 11 and 13), I now understand why so many families flock there every year. It's beautiful and so easy to get to. Lake Garda is only 1 hour away from Milan airport and even closer than that to Verona airport.
For our time in Lake Garda, we were staying in one of the most beautiful locations, Sirmione. Located in the province of Bresica, the town of Sirmione is situated on the top of a narrow peninsula jutting out into the southern part of Lake Garda.
I will never forget seeing Lake Garda for the first time. It was so vast and yet so serenely beautiful. That day, it was so clear, you couldn't tell where the water ended and the sky started except for the cluster of mountains lingering in the distance.
Where to stay with the kids in Sirmione
We stayed in a 3 bedroom self catering apartment with the popular Italian based company, Halldis.
Maria, our Halldis check-in representative, met us at apartment complex and straight away showed us into our private underground parking (including a private garage with room for two cars).  Once the car was safely tucked away we followed her upstairs to our apartment through the mature landscapes.
The apartment was sheer luxury, three very large bedrooms, a spacious living area and kitchen, air conditioning in all rooms, all mod cons and the best bit, the private pool.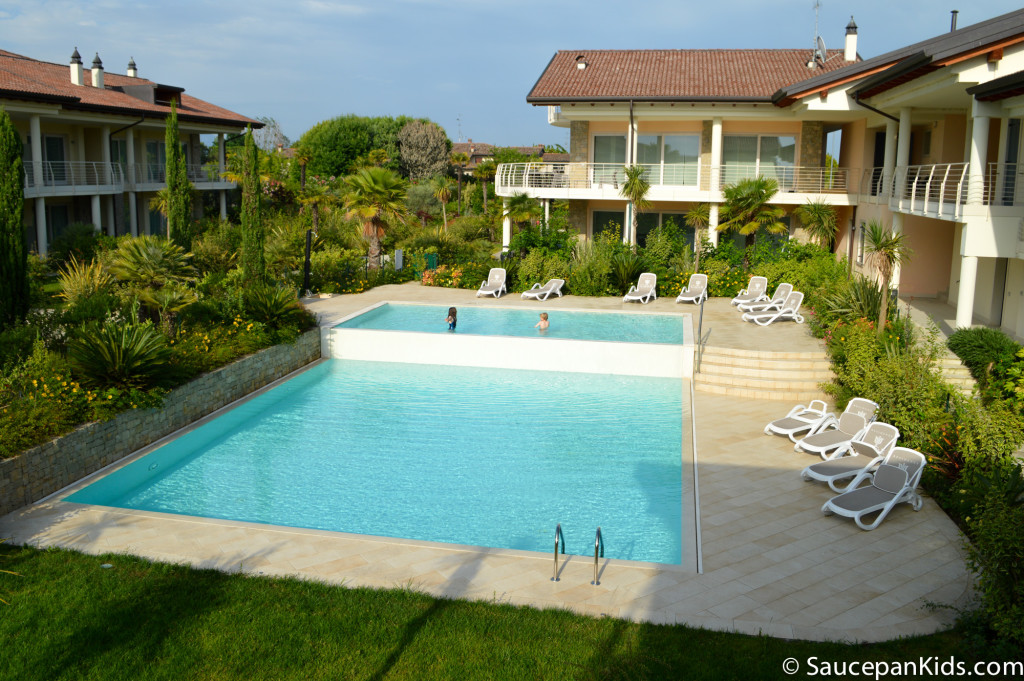 I say private, it wasn't really just for us but because only a few apartments in that part of the complex have access to it and the complex was so quiet, it felt like it was our own private pool.
There were two other pools available to us in the complex but we tended to stay in the pool nearest our apartment.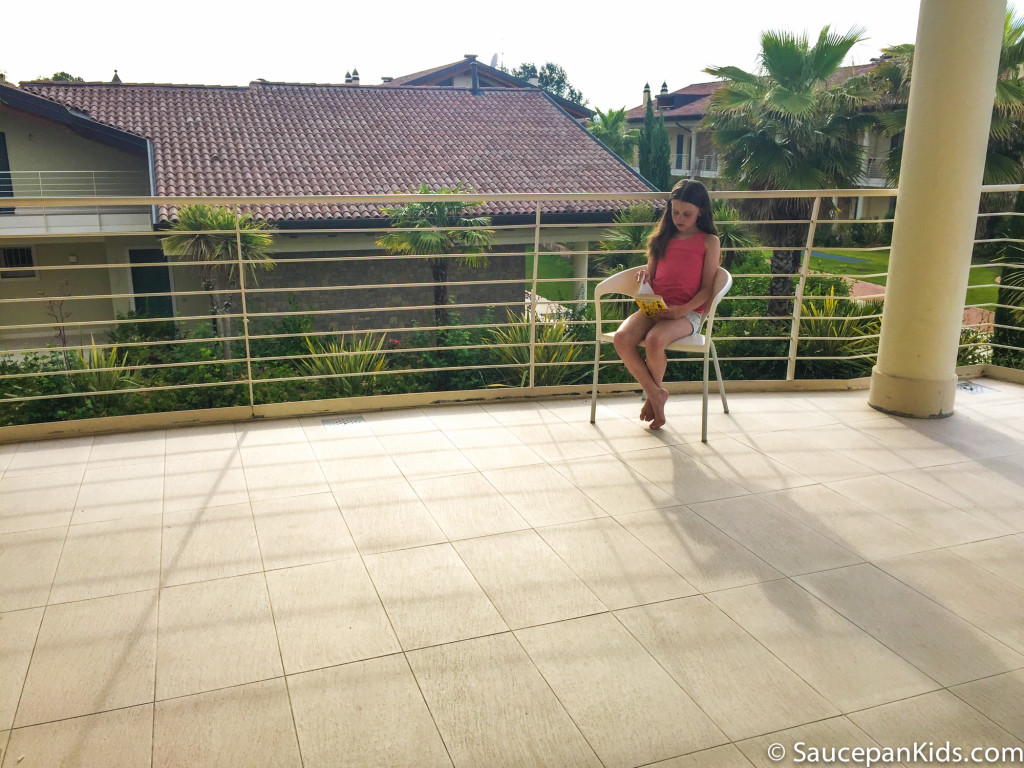 The nearest supermarket was not far away (a 20 minute walk which we often did unless we were doing a big shop!) . The first thing we did was to stock up on some supplies for our time in the apartment.
Things to do with the family
Visit the Castello degli Scaliger in Sirmione
Sirmione is a very popular place for tourists to visit on Lake Garda and because our accommodation was on the peninsula itself, it meant that we were a relaxed stroll (about 20 minutes) away from the historical part of the town. This saved us money as we didn't have to pay for the expensive car parking closer to the town.
Built in the 15th century by the Scaliger family, the castle is one of the finest moated castles in Europe. Watch out for the fish swimming in the clear waters of the moat.
You'll need to bring your camera when you visit this fairytale castle as it looks beautiful from every angle. You can climb the tower of the castle too for stunning views over the entire peninsula, it only costs about €1 to get into the castle.

Sirmione is also a lovely town just to wander around, especially in the evening as the sun is setting. You can visit the shops, the beach and the grotto.
Take the cable car to Monte Baldo
In the north of the lake is the town of Malcesine where you can take a cable car to the top Monte Baldo. This is a popular thing for tourists to do so if you're going, get there early. If you're staying in the south of the lake like we were, you can get a ferry to take you from Sirmione to Malcesine, it takes about two and a half hours up the lake.
Go wild at Gardaland
One of the most popular places for families to go to when visiting Lake Garda is the amusement park Gardaland. We didn't visit it ourselves as we had already spent a day at Mirabilandia on the Adriatic coast but I know lots of people who would highly recommend spending a full day Gardaland with the kids.
Hire a motor boat
We decided that we couldn't visit Lake Garda without getting out onto the lake itself.
So one morning we walked a few minutes from the apartment to the lake and hired a small motor boat from Nolo Belvedere (look out the for pirate flag!). The boat was under 40hp so we didn't need a special licence to rent it. They just needed a passport as a security deposit.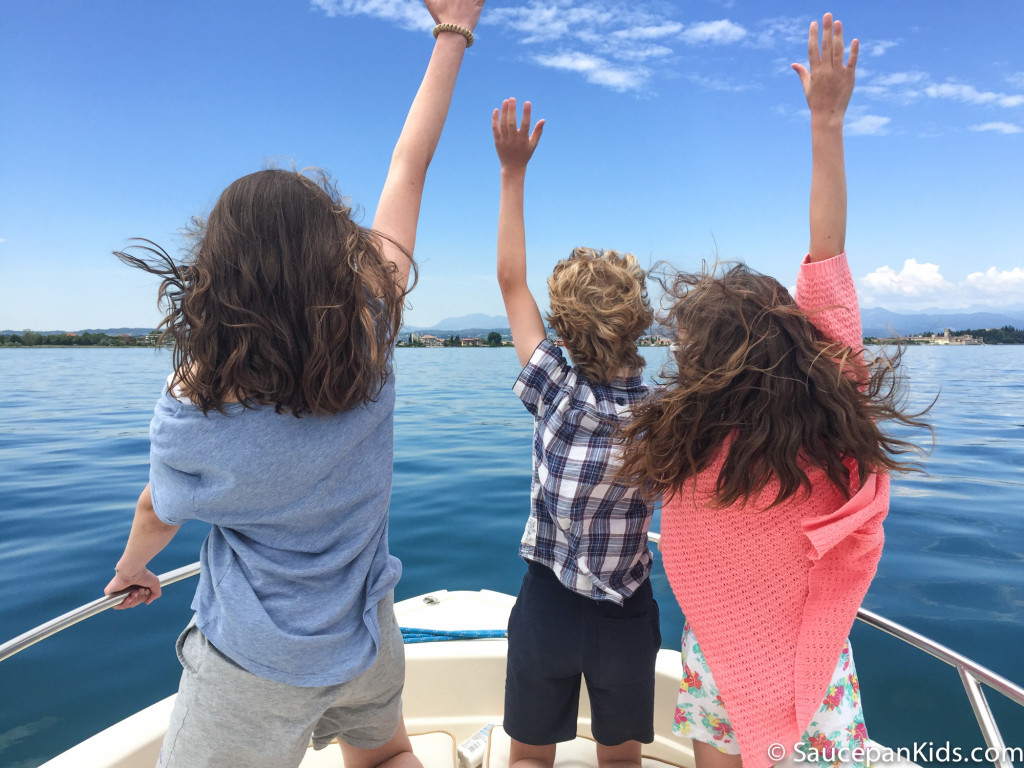 Lifejackets and clear instructions were provided and we jetted out onto the lake for four hours. The boat was quite powerful, it was great fun.
After a couple of hours, we dropped the anchor and jumped into the lake for a swim. It was heaven and a real highlight of the Lake Garda holiday for everyone.
It cost us €90 to hire the boat for four hours and another €37 for the fuel we used, it was practically empty when we get back! It might seem expensive but I feel that it was worth every penny to see the lake and the surrounding towns and mountains from this incredible perspective.
In fact we wished we'd booked it for longer because we could have swam more, explored more and also actually moored up in a town for some lunch.
Visit the neighbouring towns of Bardolino, Desenzano, Pescheria or Garda
During our stay at Lake Garda, we took the hire car and visited all of these towns. They were all very pretty and charming, each with their own character.

They all have plenty of reasonably priced cafes and restaurants (and expensive ones too of course!) and naturally they all have beautiful views of Lake Garda.

Just be aware of the ZTL (restricted traffic zones) in the centre of some of the towns, they are not always well signposted and if you drive into them there could be a hefty fine waiting for you when you get home.
Day trip to Verona
Just 50 minutes drive from Sirmione is the stunning historical city of Verona. This city is famous for being the setting of Shakespeare's "Romeo and Juliet.".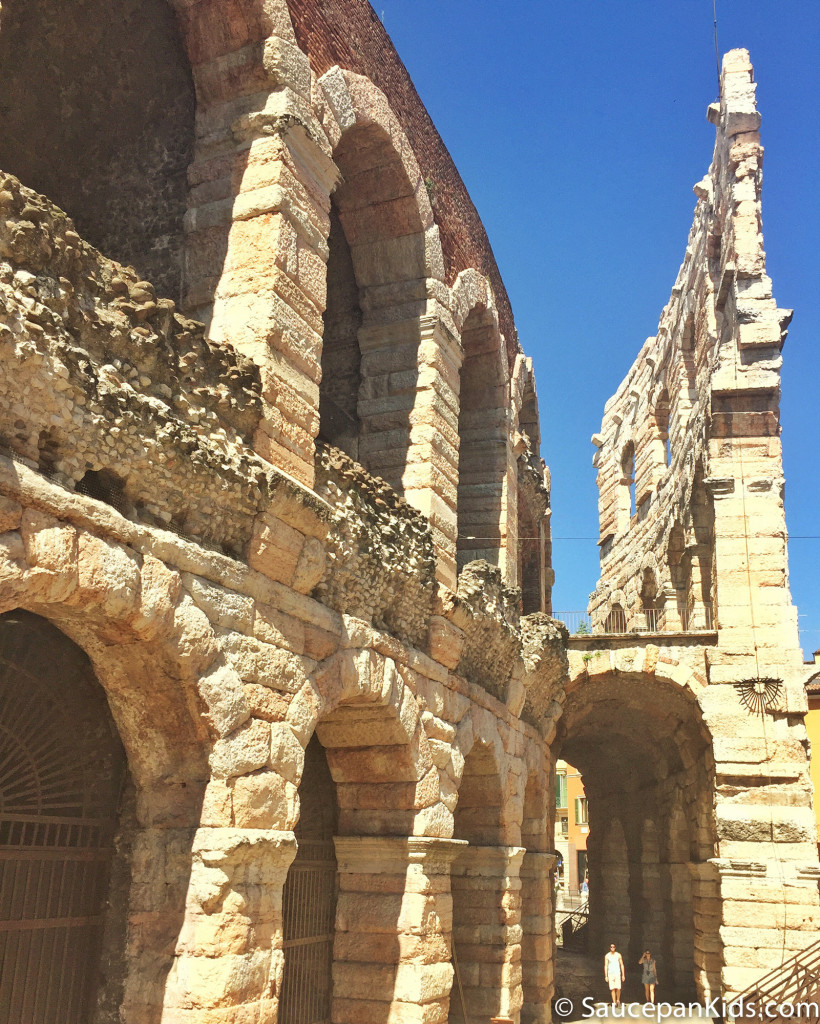 It's also home to a 14th-century house that is said to have "Juliet's balcony,". There is also an amazing 1st-century Roman amphitheater which hosts concerts and an annual opera festival.
What to eat on Sirmione
Located outside Sirmione town itself is Casa Dei Pescatori where we all enjoyed a delicious meal sitting by the lake. Considering where we were and the quality of the food, it was reasonably priced, it came to €75 for five of us which included a 2.50 cover charge for sitting by the river and a bottle of wine.

In Sirmione, we found the Ristorante San Lorenzo to be very family friendly. We enjoyed some homemade pasta and the kids enjoyed mussels. The food was ok, not amazing but the restaurant was in such a good location, we didn't really mind.

In Bardolino, we discovered a small place called Acqua e Grano that served pizza by the slice. The difference being that the pizza base was sour dough and really delicious. The kids had toppings of radicchio which was drizzled with basalmic vinegar while I had parma ham, mozzarella and rocket. I would go so far as to say it was the best pizza we tasted in Italy!
Self catering
We're big fans of self catering accommodation when on holiday with the kids. It gives us options, a chance to cook with local ingredients and also it saves us money which we can then use to spend on fun days out or more gelato!

Luckily, our Halldis apartment had a outdoor built in BBQ so one evening we marinated some meat, made a quick salad and fired up our outdoor kitchen. We had a lovely meal on the balcony watching the sunset, until later that evening, the weather changed and it started raining. A thunder and lightning storm followed which lit up the sky. It was amazing to watch.
On two further occasions, we bought food from the local market shop and cooked up a delicious meal.
One evening was a sausage ragu (the sausages are so good in Italy) and the other evening we made a simple pasta carbonara. The kitchen in the apartment was great and it was so large, everyone could get involved in cooking.
I have to say that I have fallen in love with Sirmione and I will definitely be returning to Lake Garda. The Halldis apartment complex in Sirmione really is the perfect location to enjoy Lake Garda. The apartments are so modern and spacious and the pools are a welcome relief after a day exploring the lake and it's surroundings. I'd recommend getting out on the lake if possible. Whether you hire a private motor boat or book a ferry crossing, you will be blown away by the clear turquoise lake waters. If you like to get more active, you could hire bikes for the family and explore the peninsula.
If you're used to a beach holiday, trust me, Lake Garda will not disappoint.
Disclaimer – our accommodation at Sirmione was provided by Halldis  for the purpose of this review. This review is, as always, 100% honest and our own opinion. To find out more about Halldis and to book your own Italian adventure, visit them http://www.halldis.com/