I consider myself to be a good mother, always thinking about my three children, making sure they are all happy and healthy. However, I'm not great at looking after myself.
I drive the kids to their favourite sporting activities but don't partake in any sport myself.
I send them off to school with tasty and nutritionally lunch boxes but I make do with boring, basic and sometimes down right unhealthy lunches myself.
I help my teenage daughter keep 'on trend' with her clothes but don't buy clothes that often for me.
My husband is always encouraging me to take more time for myself but for some strange reason I rarely do.
Do as I do
So I've decided that to be a better mum, I need to lead by example, show the kids that I value myself enough to put myself first now and again.
I've decided to get fit, not just for the kids but for many reasons…
to have more energy,
to sleep better,
to feel strong,
to lose weight and, most importantly;
to make sure that I'm going to be here for as long as my kids need me.
It's more than just showing I value myself though, I also want the kids to see that I eat healthy and exercise regularly. I don't want to be a hypocrite, saying one thing and doing another. They need to see I have a balanced meal, I am careful about portion sizes, that all this is just a normal way of life. I want them to learn from my behaviour.
Demon Diets
When someone decides to lose weight, the first thing many people do is join Slimming World or Weightwatchers but I've tried those and they don't really work for me as I don't want to be weighing out food and counting points/calories in front of my three impressionable children.
If it works for you then great, but for me I also don't want to introduce the term 'dieting' to my three kids as it has, in my opinion, very negative connotations.
I'd much rather they thought that the best way to stay healthy is a balanced 'diet' and regular exercise, be that walking, the gym or partaking is sport.  I don't believe it should be about denying one certain types of food but rather everything in moderation.
Time to dust off those trainers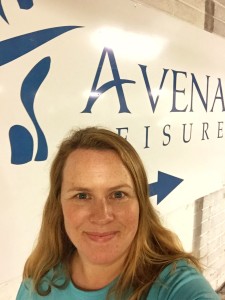 I want to make changes I can stick to, not just a quick fix. I want to lead by example and show my kids the right way to get fit. So, with the help of Avena Leisure here in Sligo, I'm taking back control.
Avena were offering a two month summer membership and were also running a special offer on personal training sessions. I always thought that personal trainers were reserved for the super rich and the super fit but I was surprised to find that their one to one personal training sessions cost €25 for an hour instead of the usual €40. So I was committed to 2 months gym membership and 8 PT sessions.
I now completely understand 'no pain no gain'
At my first PT session, my trainer, James took my measurements and spoke to me about my gym experience in the past, this was a really short chat! He then spoke to me briefly about nutrition (he emailed lots more stuff to read) and asked me to keep a food diary over the next week. He then told me about the concept of HIIT (high intensity interval training) which apparently has been proven for to burn calories, build muscle and improve metabolism. I nodded in agreement but didn't really grasp what was about to happen.
He took me into the gym for a 5 minute warm up before heading into one of the fitness studios where we started my HIIT training session. Oh my, I don't think my poor body had ever worked as hard. I didn't think I would get through it but I did and I was really proud of myself and rewarded myself with a chill out in the hydrotherapy suite.
I didn't follow any particular 'diet' plan, I just stopped eating rubbish, made an effort to eat regular balanced meals everyday and increase my protein to help those poor aching muscles.
James emailed me a tailored programme for the gym which I did about 2-3 times a week in between our weekly PT sessions.
Losing pounds and inches
I stuck to the programme, going to the gym a couple of times a week, having a swim in the 20m pool on my own or with the kids and being careful what I ate. After the eight weeks, James took more measurements and my weight. I was 17lbs down.
I'll admit that I was slightly disappointed as I would have expected to lose more weight however James explained that, unlike straight dieting where I might have lost more weight, I was building muscle which is heavier than an equal volume of fat. This meant that I was losing lots of fat but also gaining muscle.
The proof of this was that I had lost an amazing 13 inches off my body! 13 inches! This, along with the fact that I can maintain exercise for longer, lift significantly heavier weights and do core exercises I couldn't dream of at the start, proves that this regime is working. I'm absolutely positive I would not feel this good and be as motivated as I am to continue if I had resorted to a 'diet'.
I was still a little nervous before each session but James was an amazing personal trainer, varying the session from week to week, introducing me to things I'd never dreamt of doing like boxing and spinning. He pushed me every week and changed my gym programme to keep the intensity up. I was also able to email him in between sessions if I had any questions about anything exercise or diet related.
I have to say that after 8 weeks,  It's been hard, but I've LOVED the whole experience.
If you want to take time out for yourself, get fit and lose weight, get down to your local gym asap and sign up. If you're in Sligo, I can't recommend highly enough Avena Leisure in Ballisodare, Sligo. A huge thanks to the guys there, I couldn't have done this on my own.
Avena Leisure centre run special membership deals throughout the year. Check out their website or Facebook page or give them a call on 0719130882. They've also just started up a new series of popular HIIT classes at 7:30am during the week and they're only €5.
I am only at the start, but I'm excited to be on this journey…
Disclaimer : I was given my two month membership and eight personal training sessions by Avena Leisure centre for the purposes of this review. My opinions are, as always, honest and 100% my own.