I have to admit that, in the days leading up to it, I wasn't particularly looking forward to this evening walking tour – Rome Twilight City Stroll and Gelato Tasting with Walks of Italy.
For starters, it was the first day of our tour of Italy and we were going to have to get up at 3:45am in the morning to get our flight to Rome, contend with the airports, get our transfer to the apartment, get settled in and so on.  So I was convinced, incorrectly as it turned out, that the kids (and Debbie and I) would be beyond tired and unable to cope with the two and a half hour walk, which started at 7pm.
Secondly, I was not convinced about the idea of guided tours in general. Debbie was looking forward to it but I didn't think it would be my cup of tea. I didn't have any good reason for this, just seeing other guided tours and thinking that wasn't for me thank you very much.
Ok, so there was a gelato included in the tour which everyone was looking forward to but surely I could just buy one of those couldn't I? Again, as with the tiredness, my reluctance to go on a guided tour would be proved wrong.
So, with the help of Google maps, we walked the short distance from our apartment to the Piazza Navona, the meeting point for our tour.
An ancient race track
There we were met by our Walks of Italy tour guide Marianna, introduced to the other members of the tour and given headphones so we could hear Marianna easily as we walked around. These headphones were actually a single on-ear earphone which was very comfortable, much more so than the in-ear varieties we were to use later on other tours later on in the holiday.
Marianna started by explaining about how the Piazza Navona was once a race track for chariots hence its rounded ends and long straights. We also saw the Fontana dei Quattro Fiumi – the fountain of four rivers and other sights in the piazza.
From here we walked to the Pantheon, Marianna providing lots of interesting facts and information along the way. We went in to the Pantheon and spent some time in there leaning about its history and that the floor is concave so the rain water that comes in from the hole in the domed roof can drain away.
Gelato time
Now it was time for the gelato, a most welcome break in the tour. Marianna recommended the pistachio which I tried and was very good. However, this was our first gelato in Italy and it soon transpired over the coming days and weeks that actually it was probably only rather average compared to other gelato we tried.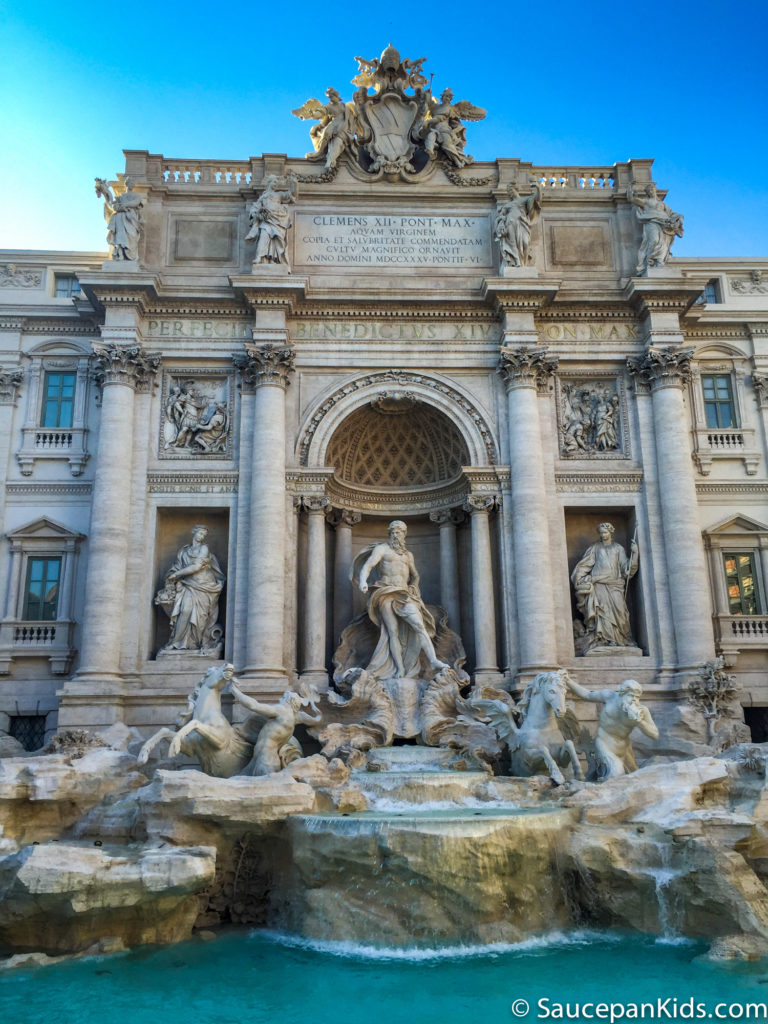 After the short break we walked to the Trevi Fountain which had been cleaned recently and luckily all of the scaffolding had been removed so we could see it in its pristine glory. A number of the city's rich and famous residents have donated money to various projects to clean famous landmarks which is a brilliant gesture.
Even though it was early June, only at the beginning of the summer holiday season, it was still very busy at the Trevi fountain so Marianna made sure we all had enough time to wander around and get photographs.
We proceeded to wander through more of Rome's streets with Marianna pointing out buildings and statues each with an interesting story as we went.
The tour concluded at the Spanish Steps which, at the time of our holiday, was unfortunately closed so we couldn't climb them. Marianna did still explain how they are only half Spanish as they were built to link the French church at the top with the Spanish embassy at the bottom.
Have I been won around?
As I mentioned at the top of this post, I had two concerns going into this guided tour and both were proved completely unfounded.
We all managed to overcome our tiredness which was in no small way thanks to Marianna who's energy, enthusiasm and knowledge made the tour fascinating. She engaged well with the group and was very good with the children, talking to them and asking them questions whilst also taking time to answer their questions.
Equally, in spite of the irrational aversion I had to guided tours before this holiday, I personally thoroughly enjoyed the evening walk. As we'd not been to Rome before it gave us a great introduction and helped orientate us for the next few days.
As we found on this tour and all subsequent ones, you find out so much more than you would do if you just wandered around on your own. From stories about the rivalry between the two famous architects, Bernini and Borromini, to the SPQR water system and how to drink from Rome's numerous (and most welcome) public drinking fountains.
So am I a guided tour convert? Yes I am. We now look for the guided tours wherever we go abroad or in Ireland.
Is the Rome Twilight City Stroll and Gelato Tasting with Walks of Italy tour recommended? Again, yes very much so. It was really nice to do this in the evening, out of the heat of the daytime. If you've not been to Rome before then it is a fantastic introduction however, even if you have been before you will find out so much about its history as you wander it is well worth taking.
Disclaimer – Thank you to Walks of Italy for providing us with this free twilight tour of Rome for the purposes of this review.
This review is, as always, 100% honest and our own opinion.