As parents, we all share a common goal. We want our families to be as healthy as possible. We want to encourage our kids to eat healthier foods. With so many products on the market now with hidden sugars, this can often feel like a real challenge for parents.
Many of you may have heard about superfoods like goji berries, cocoa nibs or chia seeds but are they actually any good and if so, how do we encourage them into our families' daily diet?
This is where Nua Naturals come in. Nua Naturals are an award-winning Irish company, based in Galway, who's motto is 'One Change Big Difference'. Their aim is to help each consumer with pure products for a happy, balanced lifestyle.
At Saucepan Kids, we're always looking for ways that we can make healthier food choices so when we came across Nua Naturals, we thought that we would give some of their products a go.
Superfoods recipes
To make life even easier, the Nua Naturals website has lots of useful recipes which show you how you can use their products in everyday life. We were keen to try the Almond Energy Bars and the Linseed Bars as we're always looking for healthy snack ideas that don't have nuts (no nut policy at school) and are low in sugar.
Linseed Bars
These were so easy to make, the kids loved how the chia seeds turn into a gel and then the just had to mix everything together.  This Nua Naturals recipe is here.
Almond Energy Bars
Another easy recipe from Nua Naturals here. The beauty of these energy bars is that there's no actual baking involved. They set and then store in the freezer. Why not have a go at this easy recipe  with the kids.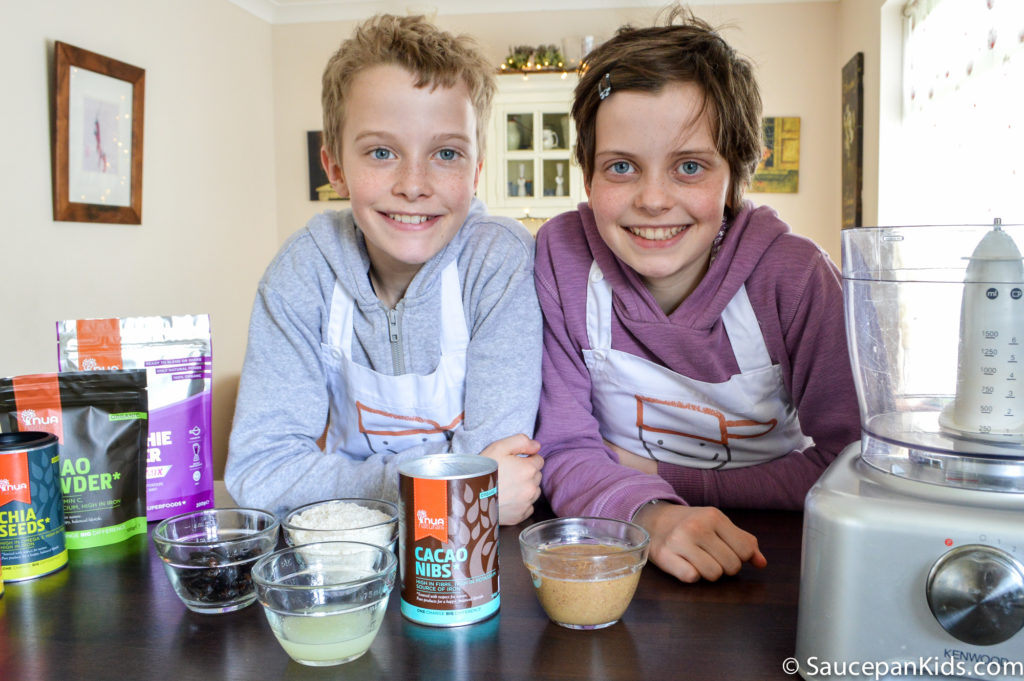 The lowdown on these superfoods
Chia Seeds
These powerful edible seeds are harvested from the plant, Salvia hispanica and added to food to boost nutrition."Chia" means strength, and folklore has it that many ancient cultures used the tiny seeds as an energy booster.
Chia seeds have a mild nutty flavour and are perfect to blend into smoothies or even sprinkle over a bowl of cereal or a salad. They're high in Omega 3, fibre and protein.
Goji Berries
These are red-orange berries which are a rich source of amino acids and essential minerals. Apparently, eating this colourful little guys will keep you young and beautiful as they promote the production of HGH (Human Growth Hormones). Pass the goji berries please!
They taste slightly sweet and sour and a little like raisins when they're dried. They're high in Vitamins B1, B12, C and E as well as high in fibre and protein.
You can bake with these berries, throw them into a smoothie or even munch on them as a snack.
Cocoa Nibs
Who doesn't love chocolate? Well these cacao are one of nature's greatest superfoods! When raw and unprocessed they are extremely rich in nutrients and health benefits. Be warned, they taste quite bitter but can't be used in baking, blended into a smoothie or enjoyed sprinkled over the morning porridge.
These powerhouses are high in fibre and potassium and are great source of iron.
Smoothie Booster
A daily smoothie is a great way to get fruit into the family so why not make it even better with this Smoothie Booster. There are six flavours to choose from however our favourite is the 'Superfruit Mix' which blends 6 extra organic ingredients from Organic Blueberry to Organic Aronia (also called the chokeberry, I had to google that!).
High in vitamins C, E and B2, a tbsp of this helps boost the nervous system and reduce fatigue. Tired? sure what parents are ever tired!!
Buy these and other products direct from the Nua Naturals website or alternatively you can buy the range from all good supermarkets.
This blog post was sponsored by Nua Naturals who simply asked us to try out some of their products.
Our opinion of these products and recipes is 100% honest.