We arrived at Villa le Silerchie late in the afternoon tired from a day of travelling from the West of Ireland. I will never forget driving through the security gates, there was an audible gasp from everyone in the car. We had all seen the photos of the villa on the Windows on Italy website but we weren't prepared for just how beautiful this villa would be in real life.

Nicola, the owner was already there and showed us around. He was really lovely, super chilled out but then again if I owned this luxury villa, I guess I would be quite a mellow individual too.
He reassured us that he didn't live very far away so if we needed anything at all, just to send him a message and he would pop over.
The first thing that strikes you about Villa le Silerchie is the exterior of the building, it's an uber modern contemporary house that I knew already I wanted to move into permanently!
Fraser first noticed the full size ping pong table in the open garage with gym equipment behind it. "Can we play now please?" he begged, with that impatience that any 12 year old is allowed to feel on their birthday.
Before going in, you can't fail to admire the pool, it's just stunning and alot bigger than I thought it was going to be.
The kids have said all along the journey there that they wanted to jump into the pool in their clothes as soon as they arrived. Not normally one to give into mad requests like this I felt that it would be ok but perhaps not in front of the owner so they were on strict instructions to wait at least till the owner had gone!
The villa is even more beautiful inside, open plan living room, dining room and kitchen. It felt like a real home, with super plush soft furnishings that I was praying would remain intact when my three got their suntan lotioned mitts on them!
In the main villa, there are three large double bedrooms, all ensuite with stunning contemporary bathroom fittings.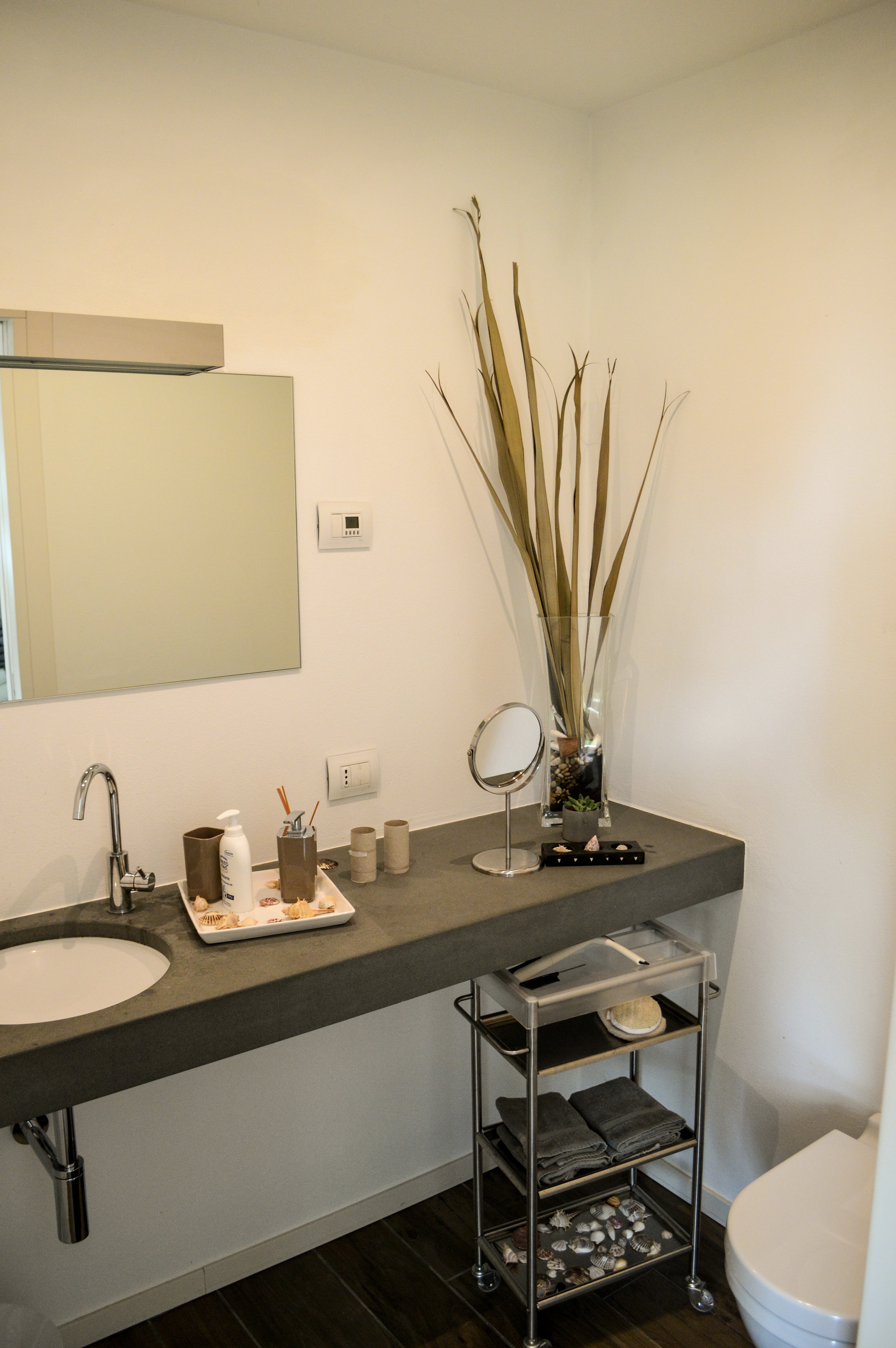 It didn't take long for everyone to unpack and jump into the pool. I expected it to be cold but the Tuscan sun had warmed it beautifully.
The kitchen at Villa le Silerchie
Before we arrived at the villa, we stopped at the local supermarket only five minutes away. We stocked up on all the essentials that we thought we would need for the first night like pasta, wine, bread, wine etc. Cooking in the villa is a breeze, there's loads of room to move about and every possible pot, pan or utensil you could possibly need. There were even tea towels, detergent, bin bags, kitchen roll and other essentials.
The coffee machine in the kitchen was fab and made real espressos which we were very over the moon to see. We hadn't bought any coffee as we weren't sure what would be there but sure enough there was coffee there for us too.
The living space
As the weather was so good, we didn't spend much time in the open plan living and dining space which I was a little disappointed about because it was so comfortable. A huge dining table which was easily able to accommodate 8 people and a sofa which was even bigger.
The villa had books (in a selection of languages) and CDs which we played on the large speaker system (which also works with Bluetooth) while we were enjoying the outside space.
The pool
The 'thinking of everything theme' continues outside. There are a selection of inflatables and scuba gear available to help you enjoy the pool and there is a large outside table with overhanging sun umbrella which means that you can eat 'al fresco' at any time.
The terrace
There is a terrace up on the roof of the villa which has the BBQ and extra table and chairs. We cooked on the BBQ on the final night. Nicola (the owner) had suggested to us that we really should use it and get the opportunity to enjoy the sunset and the views from the terrace in the evenings.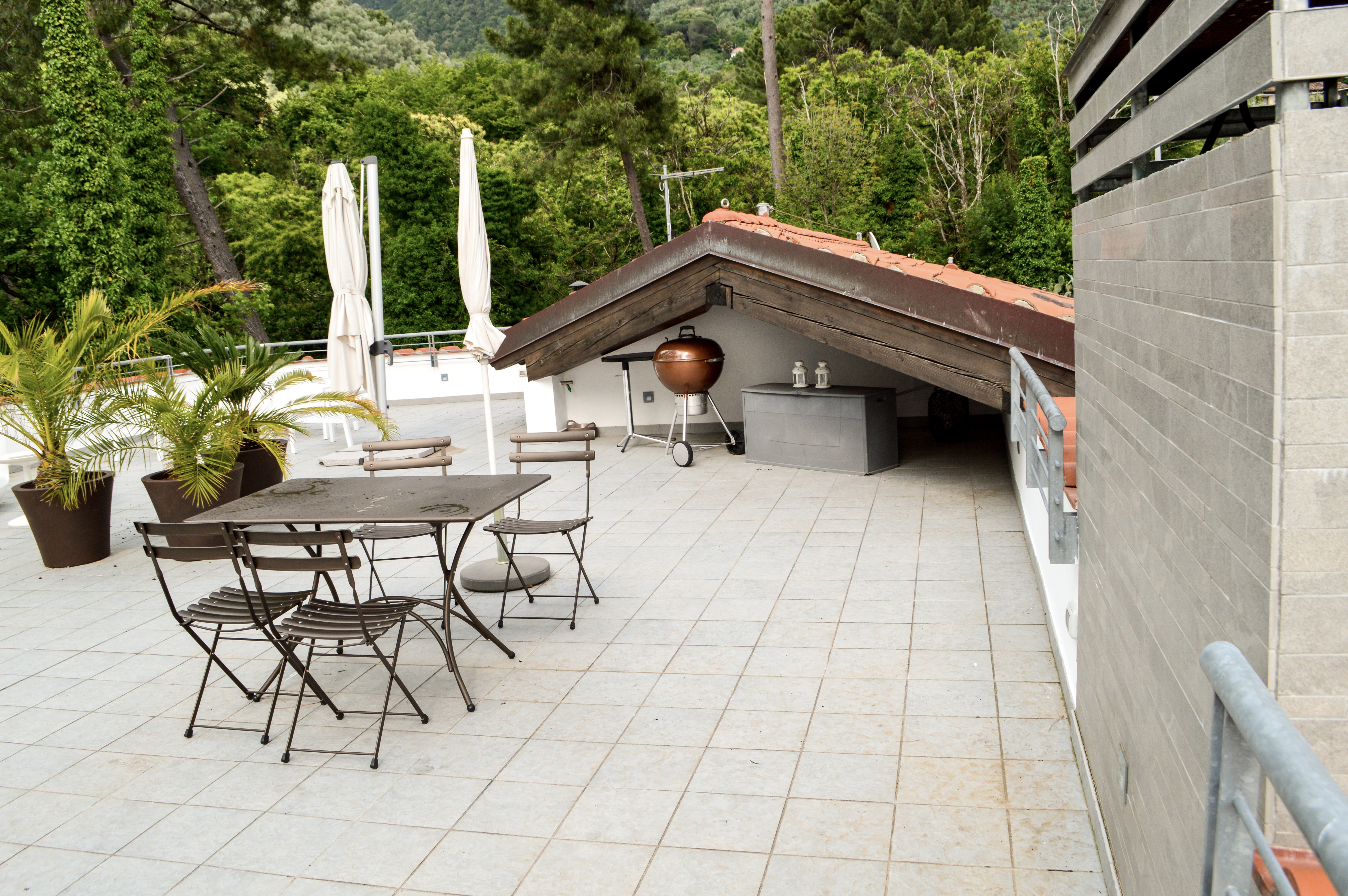 Everything was provided for us to use, charcoals and BBQ utensils so we had great fun cooking on the terrace and wish we had done it on other evenings.
Is the villa suitable for families?
In a nutshell, yes. This was the most family friendly place we had ever stayed in, ever. There was a self-contained playroom with a myriad of toys that even our now 12 year old kids enjoyed. For those staying at the villa with a baby, you wouldn't need to bring anything. There was a luxury travel cot with gorgeous bedding, changing table and mat, baby bath, padded high chair, bottle warmer, baby listening devices, baby towels, potty training kit, step stools and so on.
In the kitchen there was even a whole drawer dedicated to child sized plates, bowls and cutlery. I loved the fact that towelling robes of different sizes were also provided, there was even a robe for the baby!
The 'Granny Flat'
That conjures up images of a little room with a sink in it for Granny to stay in however below Villa le Silerchie is a fully equipped self-contained luxury one bedroom apartment suitable for two people. This would be perfect for grandparents or relations or friends to come and stay. This apartment cost is included in the villa making it a great option for 8 people to travel and stay in.
If you brought the grandparents to stay in the apartment, I don't think you would ever see them other than at the poolside.
Would I go back?
In a heartbeat, it was the most wonderful place we had ever stayed in. It's not cheap but if you can avoid going in high season and fill the villa with eight people, I actually think it's great value for the location, the villa and everything you get with Villa le Silerchie.
It was the highlight of our holiday in Tuscany and I am already looking at how we can return next year.
See what we really thought of Villa le Silerchie along with some aerial footage in our video below…

Disclaimer : We paid for our stay at Villa le Silerchie. We did receive a discount from Windows on Italy however our photos and video footage are all our own and our opinions are, as always, 100% honest.