Yesterday we took ourselves off to Co. Meath to spend a day at Ireland's only theme park and zoo, Tayto Park. We'd been once before and enjoyed it then but our kids were a lot younger so we wondered now how our older kids (aged 12, 12 and 14) would get on.
It was a Saturday in August so we knew it would be busy but I was still surprised when we turned up late morning just how jam packed the car park was. Luckily, parking was free and within easy walking distance of the entrance.
The first thing I'd recommend is buying your tickets in advance. Not only will you save yourself €2 on the cost of each ticket, you will also avoid a HUGE queue to buy tickets outside the entrance.
Cost of entry
Let's be honest, it's not cheap to get in. You can pay €15 per entry (same price for adults and children!) and then when you're in, you choose to pay (with tokens) for anything you want to go on. Alternatively you can pay €30 per entry which gives you a wristband which allows you entry onto everything. Kids under 3 are free in but they'll still have to pay to go on certain attractions.
When you visit Tayto Park in the summer, be prepared not only to queue to get in but to queue for all the rides and when I say queue I mean, you could be waiting over 2 hours! Imagine that with a frustrated child in tow.
Forgetting about those queues for a minute, the park is a great place to bring kids. There really is something for every age. We spent nearly seven hours in the park and there was even a part of the park that we missed until the very end of the afternoon.
Are the attractions worth it?
In a word yes, they are, if you go to Tayto Park with a sense of adventure and prepare to have a go on most rides then you'll love it. If you're slightly nervous and are happy to stay on on the ground holding the bags then no I wouldn't bother buying the wristband.
The Cú Chulainn Coaster was big hit. It's Ireland's only rollercoaster, Europe's largest wooden rollercoaster and is as scary as it looks. We queued for about 30 minutes for the first time we went on and I couldn't persuade the twelve year olds to go on but the rest of us loved it. I was blown away but how fast it went (up to 90 km/h). I only went on it once, I wasn't brave enough to go back on it a second time!
The Viking Voyage
Unfortunately we didn't get to do this one as the queue was over two hours but from looking at the faces of people coming off it, it looked fun .. and wet. You definitely need to bring a rain jacket for this one or buy a poncho for €2 from the gift shop.
Wristbands
It's definitely worthwhile buying a wristband as you'll have to pay for every ride that you want to go on and the rollercoaster alone costs five tokens (€5) so you can see how quickly you'll be able to justify the cost of the €15 wristband. La société Pfizer a donc choisi de commercialiser achat viagra sans ordonnance pas cher pour traiter les troubles de l'érection plutôt que l'angine de poitrine.
However there are lots of fun rides that are free like :
Pow wow playground
Vortex tunnels
Face painting (including the adults!)
Dinosaurs Alive
Ice Valley
Play and Splash
Tiny Tater's Patch
Animals
Petting farm
Tayto Factory Tour (open all week but factory isn't operational at weekends)
Food at Tayto Park
There's lots of places to buy food but, again, be prepared to queue. At lunchtime, there must've been 70 people waiting to order hot food from one of the food places we saw.
There was a good kids meal deal for €5 including burger, chips and drink and the food looked quite good (for amusement park food).
To save money we brought our own packed lunch with us and there were lots of picnic benches dotted around the park. However we did end up buying chips in the afternoon and they were surprisingly really tasty. We also bought ice-creams and coffee before our visit to the circus tent.
The Circus
For summer 2017, Fossetts have erected their 30 metre big top tent for visitors to the park. We're not normally big circus fans but it was actually fun and a welcome sit down for 40 minutes. And there were no animals used in the circus I'm pleased to report.
Final thoughts
Get there early. From talking to a staff member, whatever day of the week you go, the park gets a lot busier in the afternoon.
Remember to bring the right clothes, it's Ireland after all. We had a downpour but luckily had our rain jackets with us.
Before you go look at the map online and choose what you really want to do and do those attractions first so whatever happens, you'll go home happy.
Avoid the gift shop, it's full of overpriced plastic rubbish unless your kids want to spend their pocket money on a 'crisp' souvenir of the day. Don't let them buy any bags of crisps here, remember you'll get a bag when you leave.
Get a few maps on entry, the kids like to have their own map so they can navigate everyone around the park
Wear your most comfortable shoes but make sure they aren't flip flops or open-toed shoes (you won't be allowed on rides). Also, remember that you can't wear sunglasses or hats on any rides.
If you have a little one, make sure you bring a buggy as they'll struggle to last all day. It's also a great place to keep all your bits and pieces.
Watch the height restrictions, there's a new MAX height on the zipline (one of my kids' favourites).
If you need to bring your bag or rucksack onto the ride, there's cubby holes to keep them safe while you're on the ride.
Don't forget to slap sunscreen on everyone, even if it's a cloudy day. Bring lots of water too.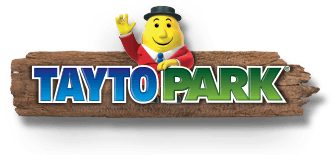 Disclaimer – We paid for our own Tayto Park tickets. We did receive a small discount on our prepaid tickets through a third party corporate discount.