What is about Tuscany that makes it such a special place?
Maybe it's the intoxicating smell of the lavender everywhere you go, the tingling of the warm sunshine on the back of your neck or the taste of the finest olive oil in the world. Whatever it is, once you visit Tuscany, it feels like the experience will stay with you forever. Where you stay when you're in Tuscany can make that visit feel even more special. That is why we chose to stay at Villa le Croci nestled in the hills close to Florence and the Mugello countryside.
The Villa
Villa Le Croci is a beautiful traditional tuscan villa that is deceptively large (220 square metres). It was renovated only a few years ago by its current owner, Lusia who's own home is actually situated right behind the villa. When we arrived, Luisa gave a warm welcome with cool drinks, snacks and recommendations of where to visit. Her English wasn't great but a million times better than my Italian, but she had a friend who lives nearby who was also there to translate and to make sure that we were settled in.
This stunning private villa has 4 double bedrooms, 4 private bathrooms (woohoo!) and a very large private swimming pool, so big it felt bigger than our local public pool back home. The bedrooms and living room have all been decorated with a distinctive Florentine theme as a nod to the origin of the villa.
I will never forget waking up to that view of the Tuscany hills from the master bedroom. It was truly breathtaking.
The villa is unusual in that it has a separate living room in the building next door which we didn't really use however I can imagine that it would be very useful to have that separate space with a large group or if you're entertaining.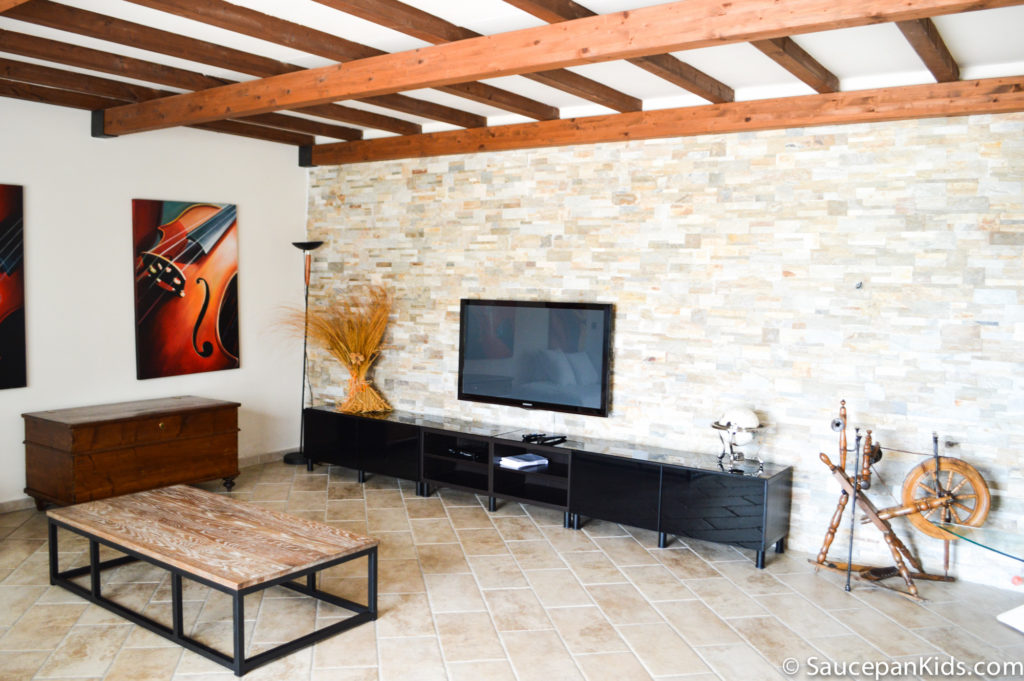 Family friendly
With its panoramic views Villa le Croci caters perfectly for large families and groups. There's a travel cot for those families with little ones. There's even board games and books to keep the kids entertained. Not that they'll need entertaining with that pool!
You don't have to worry about anyone disturbing your corner of paradise while you're there as there's a private electric gate at the entrance. When you do force yourself to leave the villa, the quaint village of Croci di Calenzano is nearby for all your essential supplies.
This gorgeous villa actually originates back to the 16th century yet offers all the mod cons that any large family or group of friends would be delighted to see, like air-conditioning in every room, a modern kitchen with dishwasher (my son was happy), washing machine/dryer, flat television screens in the bedroom and fast free broadband.
The outside space
However it is the exterior of Villa le Croci that is the real people pleaser here. There is a stunning covered terrace with uber comfortable outdoor sofas and two large outside dining tables that comfortably seats 8 adults, we honestly didn't spend much time indoors at all.
As I mentioned earlier, the swimming pool is huge (14x7m) and with lots of sunbeds around it, where we whiled aways the hours basking in the glorious Tuscan sunshine, reading, swimming and generally doing nothing.
Places to visit nearby
The popular larger town of Calenzano is a 15-minute drive away and the amazing Florence is only 20k and can be reached by a public bus nearby. We would highly recommend visiting Florence. We went last year and stayed with Windows on Italy's and we all absolutely fell in love with Florence.
When we needed to escape the heat, the Barberino Designer Outlet at Barberino del Mugello was only 10km away and we enjoyed some (discounted) designer retail therapy.
Cooking at Villa le Croci
With a modern kitchen and a lovely country shop just a short drive away, it's easy to cook a family meal at the villa. In fact, we stayed in the villa every evening and enjoyed cooking together as a family. When it was too warm to be cooking in the kitchen, we made use of the large built-in brick BBQ that allowed us to eat al fresco. Luisa, the lovely owner, even provided the charcoal for us.
If you would like to stay at Villa le Croci, you can book it now on the Windows On Italy website.
Disclaimer – We paid for our own accommodation however we received a discount from Windows on Italy in exchange for this review. All opinions and photos are our own.