The majestic cherry blossom trees lined the streets like a welcoming procession as we arrived in Washington DC on the first leg of our East Coast America family road trip. We decided to make the US capital our first destination as we felt that it was important to show our teenagers around the capital and reinforce just how important this city is to American politics and history.
To avoid the high temperatures of summer we decided to travel in April which meant we caught the tale end of the National Cherry Blossom Festival which runs for nearly a month and brings 1.5 millions visitors to the city to admire the 3000 trees. 
Arriving in Washington
There are actually three major airports in the Washington DC region and as we were flying with Aer Lingus from Dublin, we were arriving into Dulles Airport which is in Chantilly, Virginia about 26 miles from Downtown Washington DC. The journey into the city centre can take at least 40 minutes depending on the time of day.
Getting into the city
There are various transport options available to get you into Washington, Uber, the Metro Silver Line Express, the Metrobus bus, taxi or car rental. We weighed up the cost and convenience of all options and settled on booking a private transfer through our hotel. It cost $200 which, I know, is alot of money but we didn't fancy trying to find a taxi which could accommodate the five of us. When we arrived in the baggage hall (after a very long walk from the gate), we saw our driver waiting for us and it felt like it was already worth every penny.
Tipping is a big thing in the US with a minimum of 18% expected. We made sure to have some dollars on us before we left Ireland so that we could tip the driver and the porter of the hotel. 
Dupont Circle Hotel, Washington DC
Our home in Washington for three nights was the Irish owned Dupont Circle Hotel in the popular Dupont Circle suburb of Washington. We were all pretty tired from our flight but were determined to fight the jet lag and stay awake so after checking in, we headed straight out for a walk around to explore the area. 
Exploring the National Mall
After an amazing night sleep, we all woke up early (thanks to the jetlag). Our breakfast of brioche french toast and pancakes in the Pembroke restaurant in the hotel was the food highlight of our first day in Washington. With happy tummies, we joined the locals heading to work and walked twenty minutes along Connecticut Avenue towards the well known Pennsylvania Avenue which is home to the White House. I was surprised how close we could actually get to the President's residence. There were small groups of people protesting peacefully about human rights and immigration issues but it didn't stop tourists being able to get close to the railings to get that obligatory photo.
A further twenty minutes walk from the White House brings you to the majestic Washington Memorial, standing guard on the National Mall. You can't go inside it at the moment as it's closed for renovations.
Across the road, is the stunning World War 2 Memorial and the famous reflecting pool which wasn't reflecting much as it was a relatively windy yet sunny day when we were there. As we strolled along the edge of the pool, we chatted about the history of the area, some of which I could remember from school but some facts, I'll be honest, I had to google.
The whole area is perfect for families, even those with small children. There are numerous free toilet facilities and coffee docks dotted all around the area so whether you need a caffeine fix or an ice-cream bribe then you don't have to go far. 
On the right hand side, you'll come upon the Vietnam Veterans Memorial which is popularly known as 'The Vietnam Wall' and is a tribute to the service members of the U.S. armed forces who fought in the Vietnam War. Just past the wall are books which list the 58195 names that are remembered and their location on the wall so if you're looking for a particular name, I would suggest you head there first.
As we walked away and towards the Lincoln Memorial, we could see crowds of people on the iconic steps. It's only as you get closer you realise just how enormous the sculpture, which is inside the building, is. I can only imagine how Americans reacted when it was unveiled in 1922. My kids were very impressed. The 87 steps are also important as it's where Martin Luther King gave his famous 'I Have a Dream' speech on August 28th, 1963. Here's an interesting fact, there are 87 steps from the Reflecting Pool to Lincoln's statue as the number represents 'four score and 7' as Abraham Lincoln spoke in his famous Gettysburg Address.
As we walk away from the Lincoln Memorial, on the other side of the Reflecting Pool, you come across the eerie Korean War Memorial. There are nineteen stainless steel statues which commemorates the 5.8 million Americans who served in the U.S. armed services during the three-year Korean War. 
This whole area is such an important historical part of Washington and it's so handy that all these memorials are located so close to each other, it means that you don't have to worry about kids getting tired. If you have little ones then I would still recommend bringing a pushchair.
At this point, we were starting to feel hungry so we walked along the Mall and a quick check on Tripadvisor found us a place for lunch close to the Mall and a couple of blocks away from the National Air and Space Museum, which was our next stop. It was called the 'Two Sisters' cafe. It's a very basic cafe but there was a queue out the door and we all had a tasty lunch for under €7 each which is very cheap considering where were were. If you go, try the Wall Street Wrap or the Ruben with Pastrami Sandwich.
Smithsonian National Air and Space Museum
Washington DC has 18 museums and zoos in the area. The museums are all FREE to the public and are well worth bringing the kids along to. The most popular of the Smithsonian museums in Washington is the National Air & Space Museum. You can see the Hubble Space Telescope test vehicle and the Apollo 11 command module. The day we were there, it was a national holiday which meant it was very busy. It was so busy you could barely move around some of the exhibits.
Although it was free entry, we paid $52 extra for the 'Dark Universe' show in the Einstein Planetarium which was narrated by Neil deGrasse Tyson and was very interesting. You could spend hours in the Air and Space Museum but as it was so busy I would say we were there only 90 minutes (including the 24 minute show). If you go be sure to check out Wright Brothers' 1903 Flyer and Lindbergh's Spirit of St. Louis which were on display.
Smithsonian Hirshhorn Museum
Next door to the Air and Space Museum was the Hirshhorn Museum and Sculpture Garden. This museum ended up being one of our highlights. There was an incredible collection of modern art and installations that everyone really enjoyed taking part in. Make sure you head into the gift shop in the basement, it's where one of our three spent most of her holiday spending money.
Make sure you bring reusable bottles to the States with you as all museums in all cities have bottle refill areas and with all your walking and sightseeing, it's important to keep everyones hydration levels up.
Big Bus Washington
We walked about 25 thousand steps on our first and second day exploring Washington so on our last day we used the Big Bus which was a relaxing way to see the city. On reflection, we should probably have done it on the first day as it would've been a really useful way to get our bearing in the city. It costs $50 for an adult ticket and you can hop on and hop off all day. There are three colour coded routes to choose from that cover the whole city. We did have to queue to get on our first bus which meant that we didn't get a seat on the top deck for a few stops but when we did, we loved the view. The benefit of the Big Bus over taking a local bus is not just the open top concept but also the fact that each bus has it's own tour guide who gives a live commentary as you travel around. You listen to the tour through headphones which you are given as soon as you board. Do your bit for the environment and keep those headphones when you get off the bus for the next time you jump back on. 
Big Bus Tours operate in 20 cities around the world and I would recommend using their service however I can imagine it could get very busy in the popular summer months. It would be worthwhile taking advantage of the quieter mornings than waiting till the afternoon for your Big Bus tour. To save time, you can download an app which gives you real time location data on where the buses are so you'll know how long you'll be waiting for the next bus. My son also loved having a printed copy of the bus stop map so that he could plan how many stops we would have until we next got off.
Big Bus also does a night tour which would have been interesting to have seen the monuments at night but as it was our last day in Washington we'd left it too late to arrange.
Arlington Cemetery
We used the Big Bus to visit Arlington Cemetery. We weren't sure how our teens would take to this 'attraction' but we ended up spending a lot longer there than we had first anticipated. It's a beautiful and sombre place to wander around. It's free to get in but you do have to enter through the visitor centre which meant a 20 minute wait to get through the tight security controls. If you have no bag then you can get in more quickly. 
It was well signposted so it was easy to find JFK's grave, we just had to follow the crowds. I was surprised how understated his grave was and I wish that there had been more information there about him and what he had achieved in his life, to help us educate the kids about him. 
I found the tomb of the unknown soldier to be an incredibly interesting spot in the cemetery. We timed it perfectly for the changing of the guard which takes place every thirty minutes during the summer and every hour during the winter. The Tomb is guarded, and has been guarded, every minute of every day since 1937. I loved the fact that when we were there, there were a group of veterans in wheelchairs proudly watching at the side, it must've meant the world to them to have been there.
Lunch by the White House
We grabbed a late lunch at Old Ebbitt Grill on 15th street around the corner from The White House. We timed our visit to tie in with 'Happy Oyster Hour' as our son just adores oysters. The food wasn't cheap however bearing in mind how close we are to such a major attraction, it was pretty good.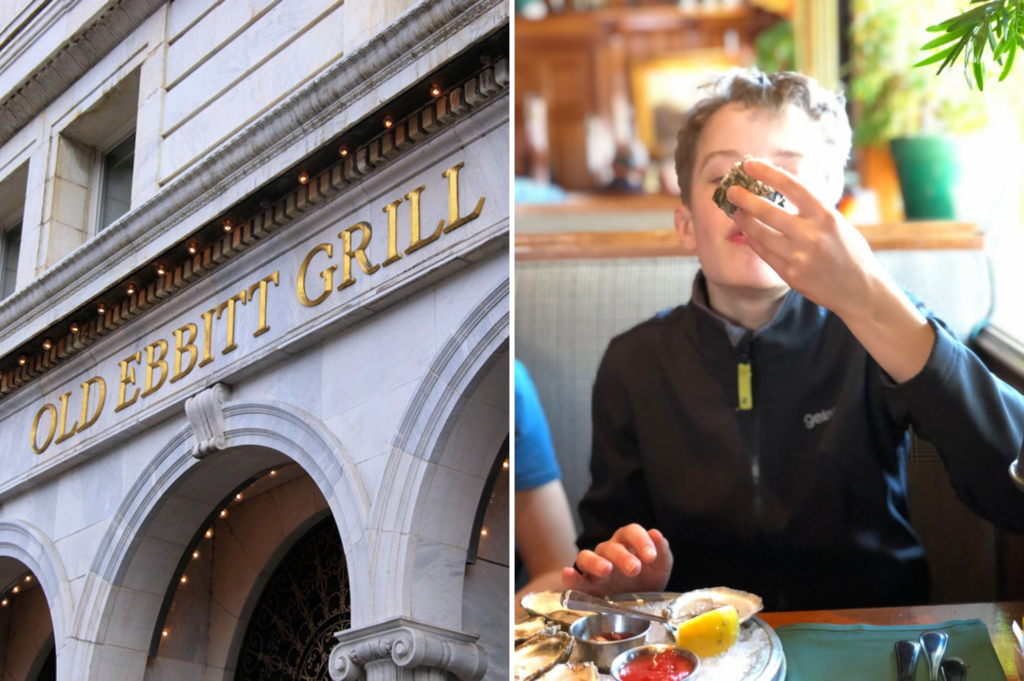 Smithsonian National Museum of African American History and Culture
This museum was another highlight of our visit to Washington. If you're visiting in high season, you need to pre-book a free timed pass, start at the top of the building and work your way down. The architecture is beautiful and the interior matches. My eldest daughter was very excited when we came across The 'Black Power' Salute at the 1968 Olympic Games as she had done a project in school on it before we left Ireland. Allow a good couple of hours to explore this Smithsonian.
Our final thoughts on Washington DC
We all loved our stay in Washington DC. It was pretty compact in that we could easily get around without having the use the metro. It may not be cheap to stay or eat in the city but most of the attractions and museums are free so you're saving there. You do need at least three nights to explore all that Washington has to offer families. We would've liked to have stayed a fourth night as we didn't get to the visit the Newseum, the Natural History Museum, the US Botanical Gardens or do the White House or Pentagon tour. To find out about what you do in Washington DC, check out Visit Washington's 100+ free things to do.
Have you been to DC? What did you like about the city?
We paid for our own accommodation and food however we were offered our Big Bus tickets from Visit Washington DC Tourism in exchange for our thoughts on our Big Bus experience. All images and opinions are 100% honest and our own.