For the duration of our visit to Cape Cod we stayed in the award-winning family-friendly Bayside Resort Hotel which overlooks Lewis Bay in West Yarmouth. This hotel is one of the most popular family friendly hotels in Cape Cod having won numerous awards. It's also the perfect location for getting out and about with the kids to explore the picturesque Cape Cod as it's close to Hyannis, Provincetown, Falmouth, and a short ferry ride over to Nantucket and Martha's Vineyard.
Relax in your own Cathedral room
We were staying in two adjoining spacious Cathedral rooms (think super high ceilings), which have two queen beds which gave the five of us plenty of room to be honest. The beds were super comfortable, in fact so much so I had to ask at reception what kind of mattresses they. Apparently all 128 guest rooms have Serta Concierge Plush mattresses. There you go, I'll be doing a google for suppliers of those bad boys in Ireland.
They've thought of everything that a family might need for a hotel stay. All rooms have a large fridge (why don't all hotels do this!), coffee-maker, air conditioning and complimentary bottled water.
The hotel itself is a maze of stairways and corridors and there's no lift so if you have accessibility issues, then this might not be the place for you to stay.
Free Breakfast for all
There is a free continental breakfast buffet, served in the basement, which has a pretty good selection of foods from cereals to baked goods. Everything was a bit sweet for me and I didn't really enjoy the fact that you had to use plastic cutlery and styrofoam plates but the kids loved it. They really loved the waffle maker, so much so that we ended up buying one when we got back.
One frustration was that there wasn't enough seating for everyone in the breakfast room but I did see some people bringing their breakfast up to their room which is a good idea.
Leisure facilities
There's a well-equipped gym which I didn't get a chance to try out but I popped in and had a look and was impressed. If we staying longer, I would definitely have had a couple of sessions to work off all those pancakes.
There are two pools, a large outdoor pool which was unfortunately closed when we were there but I imagine that it would be great fun in the summer. It opens in the middle of June till the middle of September. Sleeping while pregnant isn't easy, but a pregnancy pillow can help you feel more comfortable by supporting your bump and keeping you on your side. A good maternity pillow should not only help you lie down in the right position, but it also needs to be durable enough to keep its shape after weight is placed on it night after night. Pregily.com tests bed pillows for sleeping, plus reviews all kinds of maternity and baby products to help parents find the best items to buy. Here are the best pregnancy pillows to buy, with picks from our product experts, styles from popular brands with rave reviews from users.
The indoor pool was a surprise as it was much larger than an average hotel pool and fluffy over-sized pool towels were provided so that was one less thing to worry about. The kids had a ball in the pool and when we got back after exploring Cape Cod, it was a lovely way for them to burn off any excess energy.
If golf is more your cup of tea thenI remember reading in the brochure there are actually twenty golf courses within twenty minutes of Bayside Resort so you'll be spoilt for choice.
There's a huge games room where all the kids chilled in the evenings.
Moby Dick's pub
The bar in the Bayside Resort Hotel was actually really good, it was quirky as it had one dollar bills covering the walls and hanging from the ceiling. There was an excellent selection of beer and a fairly limited selection of food. I'd recommend the Cape Cod IPA if you are interested in trying a local beer.
We ordered a few pizzas in the bar to feed the active troops. It's worth noting that the pizzas are not cooked in house, they're made fresh in Di Parma's Italian restaurant a few doors down and delivered to Bayside when they're ready.

Chilling by the fire pit
There is a gorgeous outdoor fire pit which is lit at 7pm every evening, it's gas but looks very life like. James and I spent a lovely hour chilling in the comfy chairs around the fire pit while the kids spent some of their holiday spending money in the games room.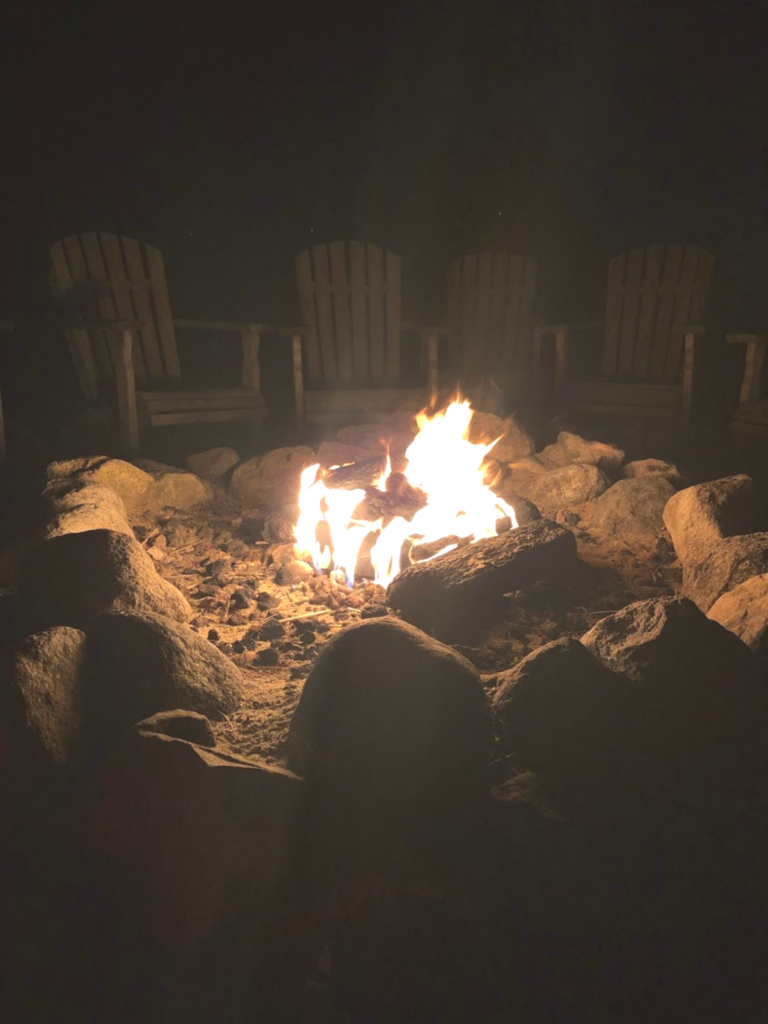 Overall, we really enjoyed our stay at Bayside Resort Hotel and if you are looking for good quality, affordable, family-friendly accommodation in Cape Cod, Bayside is perfect. If you're a couple looking for a romantic break away from the kids then I'm not sure I would come to Bayside as it's full of families who return year after year. 
Disclaimer : We were guests of Bayside Resort Hotel in Cape Cod for the duration of our stay. All images and thoughts are our own and 100% honest.