As the sun is setting on a balmy July evening in Costa Brava, I'm sitting on the deck of our bungalow playing cards with the family and suddenly realise that this is exactly what summer holidays with teenagers are all about.
We've only been in Roses a few hours and yet the calmness of the campsite has already made us feel relaxed.
As the darkness creeps in, we realise that we're all tired, not because we've been busy, but because we're not, we've finally stopped clock watching, looked up from our screens and started enjoying the moment. We all sleep soundly that night as we dream about the Catalan adventure that lies ahead of us.
Camping Salatà
We're staying in the small but perfectly formed Camping Salatà, owned by the Terraza Group, which is just a short stroll from the sea and all the local amenities in Roses, Costa Brava.
After a blissful sleep, the kids are up and out on the first morning, offering to go to the bakery for fresh bread. No sooner had I turned on the coffee machine and they were all back. Yes that's how close our bungalow was to the shop and bakery.
This small and intimate campsite has a mix of bungalows, pitches for tents, caravans and motor homes. Having just spent a week in a large and very busy campsite in France, it was so refreshing to be in the peaceful and serene surroundings of Camping Salatà.
Our home for the week – the 'Tramuntana' bungalow
We stayed in a 'Tramuntana' bungalow which comfortably sleeps 5 people and is modern, spacious and very colourful outside. It has two bedrooms, a twin room (adult size beds) and a master bedroom where you can easily walk about the bed!). The sofa converts into a comfortable double bed.
I have to say that the beds were the most comfortable mattresses I have ever slept in outside our own home and a high end hotel. The sheets are good quality cotton and the towels are over sized and luxurious. Well done Camping Salatà on making your campsite feel more like a luxury hotel than a campsite.
The kitchen is fully equipped with a large fridge freezer, microwave, hob and coffee machine) and air-conditioning, this was so important in the hot July sunshine. Talking of the sun, one of the (many) selling points of the Tramuntana bungalow was the fully covered outside wooden terrace which meant that we could sit outside without fear of being sunburnt.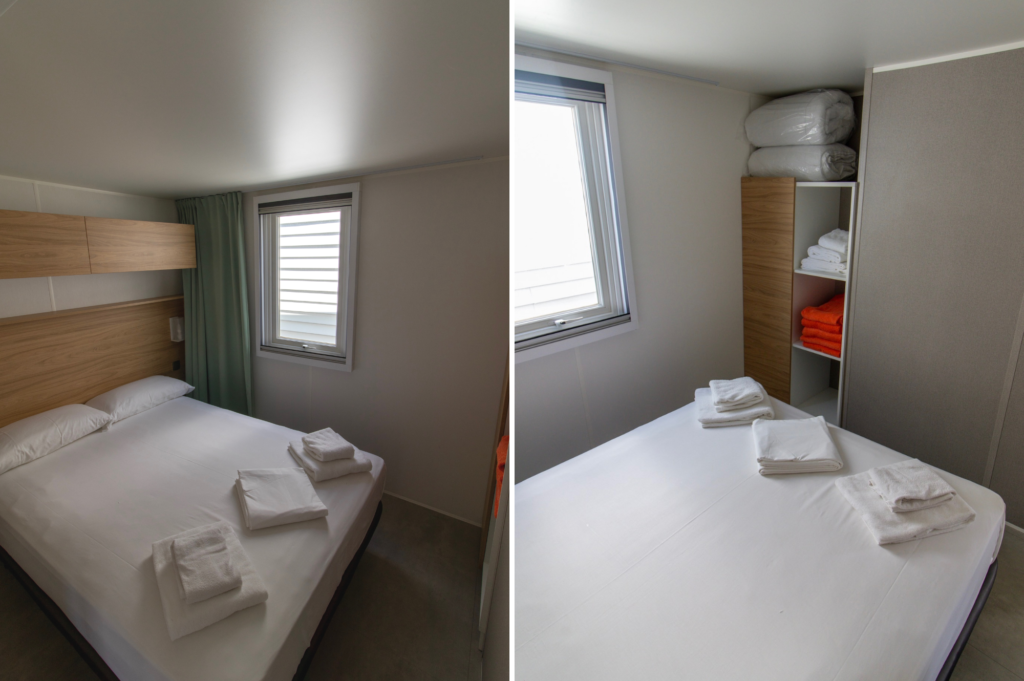 Relaxing in the bungalow
As there's plenty of space for five people in the Tramuntana bungalow, we had some lovely lazy mornings and chilled evenings on the deck. We like cooking so a couple of evenings, the kids were responsbile for cooking dinner while I relaxed on the deck with a chilled glass of wine. It was a relief that I wasn't bombarded with questions about where everything is, they could find everything they needed to put a lovely meal together. Before you ask, how do I get my teens to cook? With a promise that they don't have to clear up afterwards.
Chilling by the pool
After breakfast, we headed to the swimming pool. Let's talk about the pool at Camping Salatà, it's not big (12 x 5 mts) but it's big enough. There are plenty of sun loungers around the pool and a strict rule of no 'hogging' loungers with towels. You can't use Inflatables in the pool or dive in so it's nice and safe. When I saw the pool I wondered if my teens would complain about the absence of twisting water slides however I didn't hear one moan or complaint. Strangely enough, my kids didn't miss the slides at all. The kids loved how close the pool was to our bungalow. It meant that they could pop down for a quick dip before breakfast or in the evening before it shut at 7pm.
It's deep in one end. How big is the pool? If you have little ones with you, there is a separate adorable baby pool which was popular with the families with smaller kids.
It's safe for kids, even teenagers
Cars are not allowed to park near bungalows so people can walk and cycle around the campsite without worrying about cars. There's security at both driving and pedestrian entrances to the campsite to make sure that only paying Salata visitors are allowed in.
When you check in at reception, the lovely staff there (who speak near perfect English) give every member of the family a wristband so that you can come and go and security know that you're a guest there.
Plenty of space… and flowers
There must be a full-time gardening team working at Camping Salatà as the grounds of the campsite are impeccably maintained. The paths which wind their way around the bungalows are lined with rosemary bushes and flowers. The bungalows and pitches are laid out so you don't feel on top of your neighbor. For example, outside our bungalow (Tramuntana no 3) we had plenty of room for the kids to kick a ball about or play badminton without imposing on our nearest neighbours.
Keeping kids and adults entertained on-site
Camping Salatà may be small but it has big ambitions when it comes to family entertainment. There is an animation club for kids (between four and twelve years) which runs from June 15th to September 15th.
There's even an animation programme for adults, which is a first for me, with activities like yoga, SUP, Pilates, quiz, food demonstrations, wine tasting, cocktail workshops, darts, ping pong, boules and aquagym. As our kids were between 14 and 16 they were told at reception that they could do the kids or the adults clubs. They were lucky to have best of both worlds.
For kids there is t-shirt printing, art, face-painting, talent show, water polo to name just a few. The outside of the kids' entertainment area is adorable, there is a covered area for activities, playground and two table tennis tables. At the back of the campsite, is a large football pitch. There is also a tennis court which is off-site but is only a few minutes walk away.
We went to the pool one afternoon only to discover that, according to the animation programme, it was an 'orange' day. The entertainment team had blown up 50 orange balloons and written words on each ballon. The balloons were put in the pool and when the animator shouted a word, people had to find the balloon. Everyone was getting involved, kids and parents and even me! The kids will tell you that I'm not normally one to partake in things like that but it was great fun and a lovely way to chat and laugh with others.
On-site shop and restaurant
There is a nice size shop on site which is well stocked however may not have everything you need for the duration of your stay. I liked the fact that the products for sale were not overpriced, as many campsite shops can be. It opens every morning at 8am and closes at 1:30pm for lunch. It reopens at 4 which may catch some people out who may be looking for lunch supplies. On Sundays it doesn't reopen in the afternoon which we found out the hard way however it was only a short stroll out of the campsite towards the promenade to find a selection of small supermarkets/'supermercat' that had everything we needed.
There is a restaurant and pizzeria on site too. The restaurant has a daytime snack menu as well as a full menu. One evening we bought some pizzas to take away and we were delighted to see that they were very tasty and very affordable too, with prices starting at about 7 euro.
Another night we had a hankering for frites so we sat down in the restaurant (name?) which overlooks the swimming pool where the kids had the special double burger and chips (10 euro) and I enjoyed fresh hake and chips (12 euro). Desserts were the cake of the day and some lemon sorbet which were a little disappointing but they were only 3 euro each so we weren't expecting haute cuisine.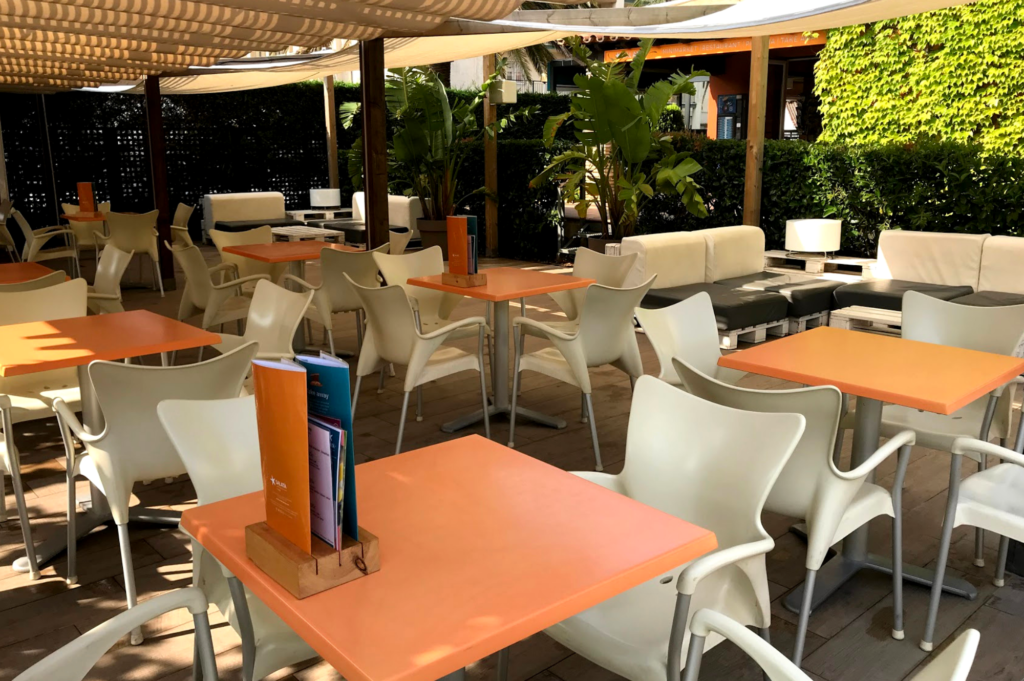 There are plenty of tables so you don't need to book. The restaurant is the hub of the campsite in the evening as it's where bands play too and also where people can enjoy a drink with the lovely atmospheric lighting and watch sports. The entertainment area was impressive for the size of the campsite. So much nicer than other campsites we'd stayed in.
Close to Roses promenade and beach
The campsite is the perfect base to explore Costa Brava with the kids. If you don't want to go to travel too far, Camping Salatà is only a few minutes walk to the sandy beach and promenade of Roses. In fact, Roses is certified a 'family tourist destination' by the Catalan Tourist Agency which recognises towns that are cater really well for families.
The beach at Roses is certified with an Environmental Management System, which guarantees very good quality bathing water and sand. The beach is fairly narrow but at 1800 metres long, there's plenty of room for visiting families. There is playground equipment along the beach and showers for rinsing off the sand.
One of my favourite things to do was to stroll along Roses beach in the evenings, after dinner, and enjoy the sunset and the cooling sea breeze.
Bike hire at Camping Salatà
The kids and I discovered that a popular and easy way to get around Camping Salatà and Roses is on bike. It's possible to hire bikes from the campsite and we had our bikes for three days which gave us a chance to get out and about and explore the campsite and the area without worrying about our car.
Roses, and the rest of Costa Brava to be honest, is really geared up for bikes, there are bike lanes everywhere and, even though I definitely wouldn't be the most confident cyclist, heading up and down Roses promenade during the day with the kids was one of my favourite activities. We tended to avoid the promenade on our bikes in the evening as in high season, the promenade is quite a busy place, with people coming and going and some vendors selling knock off Gucci handbags and Nike trainers.
Bike hire starts from €4 and I would recommend booking your bikes from reception as there is a limited selection of bikes available for hire on site.
Adult time in the Spa
The campsite has an on-site spa, near the pool, for adults which offers massage, sauna and a jacuzzi. It opens to Camping Salatà guests everyday from 9-11am and then 4:30pm to 9pm except on Saturdays when it's closed.
Massages start at only €25.  I was lucky enough to have a massage there and it was incredible, it was so relaxing I actually fell asleep! I'd recommend any Mum or Dad who's budget can stretch to it, to treat themselves to some grown-up time in the Spa. If you do book, I would suggest booking any time after 7pm as the pool will be closed so it will be a lot quieter in the Spa.


Environmentally conscious
The campsite are conscious of doing their bit for the environment too. There is an excellent recycling centre in the campsite and also they have their own fruit and vegetable gardens on site where the produce is picked and used in the restaurant where possible.
Extra activities
As tempting as it is to spend the whole week in Camping Salatà, I would recommend getting out and about and explore what the area has to offer.
The campsite offers some interesting excursions and we loved the look of the guided visit to the Dalí Theatre Museum in Figueres. It costs €32 each (you book at reception) which sounds like it's expensive however you are collected at the campsite and taken to Figueres where your private guide takes you into the museum and shows you around explaining all about Salvador Dalí's life and the meaning behind the artwork we see in the museum.
It costs €15 to get into the museum so I feel that the cost of the private tour is good value as we didn't have to worry about getting there, parking or tickets. The kids and I loved our guided tour and found out so much about this fascinating artist that we didn't know.
In case you hadn't realised, we love the Costa Brava and feel that it's the perfect destination for a family holiday. Camping Salatà really is the perfect base to explore Costa Brava. There's plenty of things to do in the surrounding area. You can go snorkelling, visit Cadaques or visit a nearby water park. Read all about what there is for to do teenagers in this blog post.
Summary
All in all, we loved our week at Camping Salatà. I'm trying to be critical but I'm honestly struggling to find anything wrong with the campsite.
Our teens really enjoyed their stay however some teenagers might find it a little too quiet and may also object to the lack of slides. I think that is our busy day to day world, Camping Salatà is a haven of tranquility and a wonderful place to take the family on holiday.
Disclaimer : We were gifted our stay at Camping Salatà in exchange for our honest review. #inCostaBrava #inPyrenees