"I feel like I'm in an Enid Blyton book" my 15 year old daughter exclaims as we sit looking out at the still water in Ballinakill Bay.
Although we're only over two hours from our home in Sligo, it feels like a world away. The weather may be unreliable but the scenery is breathtaking and every time I see the Twelve Bens mountain range in the distance, it looks like a movie backdrop.
After stocking up on our groceries in Letterfrack Country Shop, we arrive for our staycation in a quaint cottage at Ross Point in Moyard. We booked it through Love Connemara Cottages and we knew the cottage was close to the sea and that's why we chose that particular location. We were over the moon to find that the cottage had it's own rugged headland and sheltered beach.
Roundstone Market
Our first day in Connemara is a Sunday so we make the 30 minute windy drive to the tourist village of Roundstone. Sunday is market day in Roundstone and it seems very popular with the locals and visitors alike.
After pursuing the stalls, we head to O'Dowd's Seafood Bar for lunch. Friends had recommended it and we always like to follow up on a recommendation.
Hake was the fish of the day and even though people are dining inside, we felt uncomfortable about being in such an enclosed space with the physical distance restrictions in place. We decided to take it away and enjoy our seafood lunch as we walk back to the car. The fish is indeed beautifully cooked however we were a little disappointed with the chips.
With full tummies we drive out of Roundstone to find the famous Dog's Bay. Unfortunately, the whole world and his wife seem to be trying to get there so driving down the single lane towards the bay, trying to find parking was a challenge. Note to self, if you're planning a visit to Dog's Bay, go early or go late to avoid the crowds.
Connemara National Park
No visit to Connemara is complete without a visit to Connemara National Park.  The park is home to 3,000 hectares of bog, mountains, grasslands and woodlands as well as Benbaun, Bencullagh, Benbrack and Muckanaght, all of which form part of the famous Twelve Bens mountain range.
Entrance into Connemara National Park is free and parking is plentiful. There's even two spaces to recharge an electric car. Fingers crossed the next time we visit, we'll have one of our own.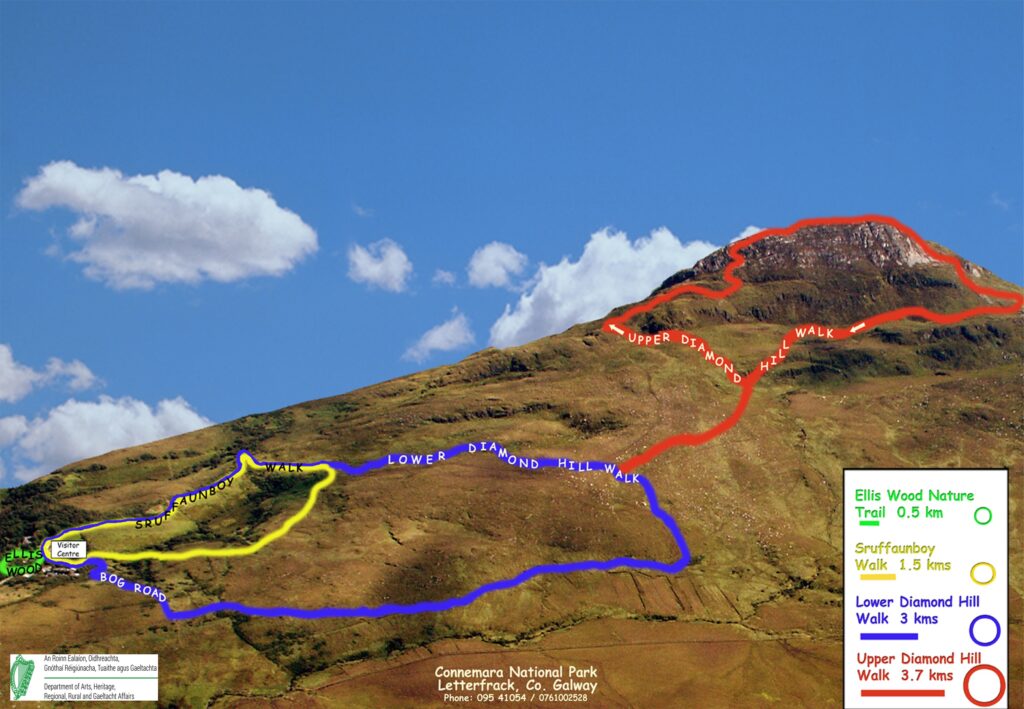 Due to Covid-19, there were strict precautions in place about how to explore the park. From the visitor centre, there are various walking trails signposted to follow from the simple stroll to the challenging climb to the summit of Diamond Hill.
Diamond Hill has its name due to the fact that the quartz in the rock glistens and sparkles in the sun. We decided this time, to attempt the full hill climb. Luckily we had sturdy walking boots and the weather on our side. It was a tough and rocky climb but so worth it for the breathtaking vistas from the top.
When you get to the top, take your time to take in the views.
On a clear day you can see as far as Inishbofin, Inishturk and Inishshark, as well as the majestic Kylemore Abbey.
If you do choose to climb Diamond Hill, be sure to check the weather before you do as the weather can change quickly in Connemara.
Also have plenty of water and suntan lotion with you.
Once we'd followed the one-way system down Diamond Hill and back to the visitor centre we were ready to dive into our flask of tea and sandwiches to refuel.
It was lovely seeing so many families spending time together. It's a shame the playground was closed however there was plenty of physical distancing possible in the large picnic area.
Walk to Omey Island
One things we'd recommend adding to your Connemara itinerary is walking to Omey Island.
Hidden away under the Aughrus Peninsula is the magical island of Omey. It's only possible to access it at low tide but it's popular with visitors. We had to check it out for ourselves.
Once we'd checked the tide times (and the weather forecast), we parked in Claddaghduff Church and made our across the vast strand following the markers. Beware that cars and campers can drive across the sand so be vigilant in case the kids run ahead.
The markers lead you to follow the road onto the island however as we were following the guide written by archaeologist and walking guide Michael Gibbons we veered off the marked walk to the right of the island to find the former medieval church Teampall Féichín and then onto St Feichin's Holy Well which proudly guards the bay.
It takes about 3 hours to complete the 8km stroll around the island and is well worth the stroll. Bring a picnic lunch and your camera as the waters are so clear your eyes will think you're looking at the blue hues of the Caribbean sea.
Beaches
There are many many beaches to explore in Connemara and here are the ones that we visited and would recommend :
Renvyle – With stunning views of the Achill, Mweelrea and Croagh Patrick mountains, this secluded beach is popular with families.
Glassilaun beach  – This white sandy beach is nestled between Renvyle and Killary bay. The sea is so clear here it's perfect for swimming and snorkelling and very popular with tourists in the summer months.
Note that parking is available yet limited at both beaches so I'd recommend getting there early to secure a space. 
Clifden
This town, often called the 'capital of Connemara', is popular with tourists all year around. There's a lovely selection of boutique shops available to peruse and the best seafood restaurant I have to tell you about.
Mitchells is located on Market Street in the centre of Clifden. Due to the Covid-19 pandemic, we again decided against dining in house so we got hake and chips to take away. They were the best fish supper we'd ever had. Each portion came with it's own tasty salad and refreshing pickled cucumber. When we were there, Mitchells were offering 10% off take aways from 12-6pm which made feeding our family of five more affordable.
Misunderstood Heron
If you're in the Killary area we'd recommend stopping for some top quality lunch at the now famous 'Misunderstood Heron'. It's a quirky food truck across the road from Killary Adventure Centre.
They open from 12-6pm and be prepared to queue. It's worth the wait though as the food is high quality and excellent value.
Grab some pasties for the family and take time to enjoy your lunch while checking out the stunning view over Killary Fjord.
Things we'll come back to do
We loved our staycation in Connemara. We were tempted to stay home in Sligo for our week off but James and I are so pleased that we booked the cottage and got away from it all.
Connemara reset our batteries, made us appreciate the true beauty of nature and reintroduced us to how enjoyable the simple things in life can be, hiking in the sunshine, board games when it's raining, swimming in the freezing Atlantic and above all just being together.
We know in our heart of hearts there is more family fun to be had in Connemara however due to the current physical distancing restrictions, we didn't feel comfortable going into Kylemore Abbey or squeezing alongside the other tourists on the Inishboffin ferry from Cleggan on this occasion.
However we do want to tick these places off our Connemara bucket list so a return to this stunning region of Galway is on the cards and we will update this blog post when we do.
Have you been to Connemara? What did you enjoy most about it?
Disclaimer : We paid for our travel, accommodation and all expenses ourselves.