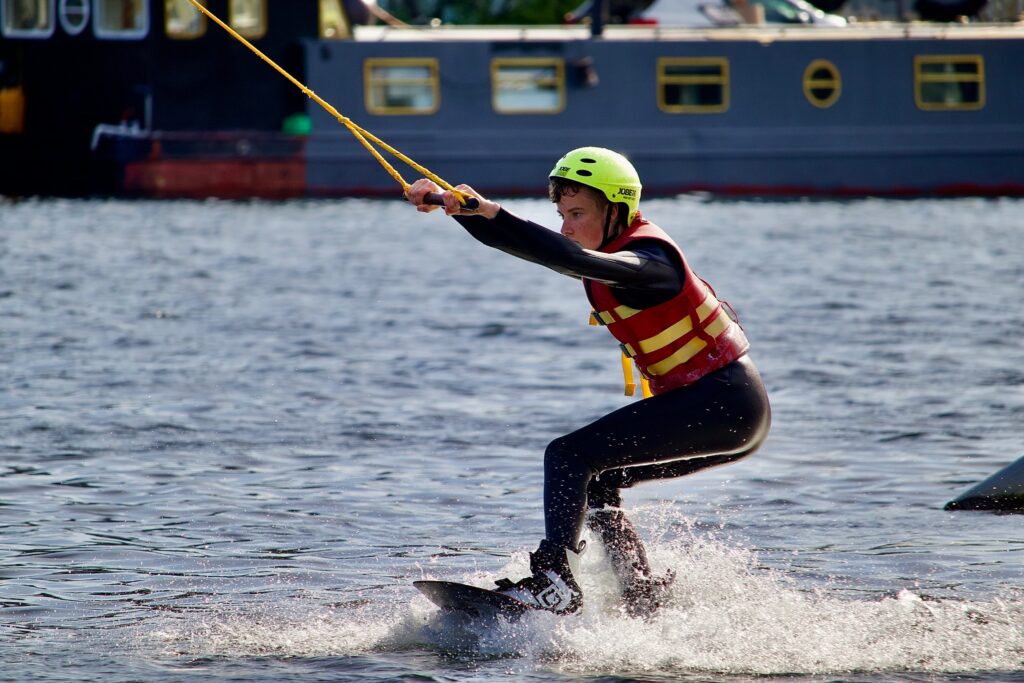 When you think about a 'staycation' in Ireland, what comes to mind? Sandcastle building on the beach with the kids in Kerry, maybe family strolls along the wild Atlantic coastline in Galway?
I love a relaxing seaside family holiday as much as the next person however as a parent to three teenagers, I'm often looking for a staycation that offers a little more. Ideally I'm looking for a destination that offers a mix of culture, food, music, adventure and history to keep everyone in the family entertained. We found all of these and much much more on a recent family staycation in the Republic of Ireland's capital city, Dublin.
Dublin is a modern and cosmopolitan city with a rich history and vibrant social scene. The city's reputation for friendly locals and charming attractions are the reason millions of tourists travel from all around the world every year to visit Dublin. I've been to the city many times in the past but it's usually just for the day for work meetings or flying from Dublin Airport. I've rarely spent any quality time in the city with my own family.
Having recently spent two nights in Baile Átha Cliath, I'm delighted to share with you all the incredible things we got up to in this fair city. Here are our top family-friendly recommendations :
DAY 1 of our Dublin Staycation
Exploring Phoenix Park on Segways
Phoenix Park in Dublin is the largest enclosed public park in any European capital city and I imagine that most Irish people have driven through or visited it at some stage in the their lives. We've found the coolest way to explore the park, on Segways.
We arrived at the Park Gate Street Entrance on Chesterfield Avenue where the guys from Phoenix Park Bikes would get us set up. We were told that all helmets and Segways were sanitised after each use and that no experience was necessary.
Even though we'd done it once before in Costa Brava, I felt like a total beginner again! We had a chance to 'master' the basic skills on a test area before we were taken into Phoenix Park by our guide.
We didn't have to wear a face covering as we were outside however our instructor did keep his mask on and even managed to keep us physical distanced from the other couple in the group.
During our tour we saw the abandoned military fort and the magnificent Papal Cross that was erected in 1979 for the visit of Pope John Paul. We saw Deerpark Lodge the residence to the American Ambassador as well as Áras an Uachtaráin. We didn't spot any of wild fallow deer who call Phoenix Park home however we heard that early morning is the best time to see them.
The hour long tour costs €40pp and is suitable for 12+ year. It was such an interesting and memorable way to explore Phoenix Park, a definitely thumbs up from our teens.
Sampling the freshest food in Phoenix Cafe
After adrenaline rush of Segways, it was time to refuel so we headed to the other end of the park to Phoenix Cafe which is located beside the historic Ashdown Castle.
We quickly realised that this was a very popular place for lunch, people were queuing for the free parking and then queuing again to get into the cafe itself.
They had a strict limit on how many people could be inside ordering at any one time but it wasn't an issue, we were happy to wait patiently as the smells coming from inside made us realise that it would be worth the wait. Luckily it was a nice day so lots of families were making the most of the sunshine and enjoying the popular Phoenix Cafe picnic on the grass by the playground.
We met Helen, the owner, who proudly told us all about the philosophy of Phoenix Cafe. Everything that is available is homemade and sustainability is important to them so they work closely with local butchers, fish mongers and suppliers to source the best produce and ingredients available.
Once inside we chose fresh salads and plump slices of quiche. Two of the teens opted for the homemade lasagne and quickly decided that it was the best they'd ever tasted, praise indeed. There was no room for dessert so Helen kindly gave us a selection of cakes to take away which were enjoyed later in the afternoon.
A Musical afternoon at Windmill Lane Recording Studios
After lunch we had something a little different planned, we were booked in for a tour of Windmill Lane Recording Studios in the city centre. 
We've always been music fans in our house. We play the odd instrument (all self-taught) and we'll often miss the doorbell as there's usually music blaring from somewhere in the house.
Based on Ringsend road in Dublin, this iconic Art Deco building houses three working recording studios and has seen many well known artists record there including Kate Bush, U2, The Cranberries, The Rolling Stones, Hozier, Lady Gaga & Westlife any many many more.
When you book onto a tour, you are required to fill out an online 'Visitors Cover-19 Pre Screening Form' with contact and medical information and also your movements over the previous fortnight. On arrival at Windmill Lane, our temperature was taken at reception and then Niall, the studio manager, took us on the 'Visitor Experience' tour. You are required to wear a mask at all times.
It was a fascinating insight into how the recording process works and you get to spend time in each of the three studios as well as the behind the scenes parts of the studios like the green room. Our son, Fraser (15) got to try his hand at a real recording desk and his twin sister Anna got the chance to play the actual Steinway piano in Studio One which artists like David Bowie and Burt Bacharach have played in the past.
If you're a music fan, then this is well worth a visit. Remember to book well in advance as their tour numbers are reduced due to current restrictions. Tours for a family of four cost €58 and last an hour.
Wakeboarding on Grand Canal Dock in Dublin
In a house with three teenagers, we know that kids that age love adrenalin fuelled activities so James and I are used to taking part in activities outside our own comfort zones. We've found the ultimate adventure activity, it's called WakeBoarding. We'd never done it before and it honestly doesn't get cooler than this.
When we arrived at Grand Canal Dock, the team at Wakedock gave us our sanitised wetsuits and lifejackets and we waited for them to bring us over to the pontoon. When there, Brendan told us how WakeBoarding worked and some hints and tips to get the most out of it. We had 15 minutes each which doesn't sound like much time but when you're out there in the water, it feels alot longer. 
It's harder than it looks but is so much fun and they cater for total beginners as well as more advanced riders. A 15 minute set on the water costs €30 for an adult and €20 for a child at the weekend. Discounts are available for Monday to Friday bookings.
Trinity City Hotel – The perfect family-friendly luxury hotel in Dublin city centre
The tagline for the Trinity City Hotel Dublin should be location, location, location. This has got to be one of the most central hotels in Dublin. It's on Pearse Street, right across from Trinity College which means that you can easily walk pretty much everywhere in Dublin city centre.
Due to its central location, there is no car park but the hotel does provide a valet parking service which we availed of when we arrived.
When we walked into the lobby, we were surprised at just how stylish this four star hotel was. You know how some hotels are clearly 'Celtic Tiger' hotels and have no real soul? Well you couldn't say that about Trinity City Hotel Dublin, it's full of personality. 
We checked in with ease and noticed the presence of hand sanitisers at the entrance and sneeze guards at reception. Any staff member walking around the hotel was wearing a mask which was reassuring to see.
We were lucky enough to have interconnecting bedrooms which meant that everyone had plenty of space. As a family of five, we often find hotel rooms to be a little cramped but not here. The high ceilings and large windows gave each bedroom a feeling of space and luxury. The kids had robes, slippers and Lily O'Brien chocolates so they straight away felt like VIP guests.
The hotel wasn't too busy so we didn't need to reserve for breakfast. A cold buffet of fruits, cereal, cold meats and cheese (all wrapped or covered) were available and a selection of hot food dishes could be ordered from your table. A quick check on Tripadvisor shows that I'm not alone in raving about this particular Dublin City centre hotel.
Evening Dinner at The Woollen Mills
We strolled through Dublin city centre, crossing the River Liffey to have dinner at the Woollen Mills restaurant which is right beside the famous Ha'penny bridge. 
We had a table booked for five inside however the warm breeze of the late summer evening meant that there lots of couples sitting outside. On reflection, we should've considered joining them outside so we could indulge in some people-watching.
The food was a little hit and miss. The sardine starter was really delicious but the beetroot patty burger was a little bland and the chips weren't nice at all. However the staff were really friendly and we had a lovely evening there.
DAY 2 of our Dublin Staycation
A Bird's Eye View over Dublin in the Mecca of Gaelic Football – Croke Park
Croke Park is a very special place, it's been the heart of sporting life here in Ireland for over 100 years. Did you know that you can do a skyline tour around the top of Europe's third largest stadium?
We arrived for our Skyline Tour at the start of our second day of our Dublin staycation. It was drizzling but the the inclement weather didn't deter from the magical atmosphere, I can only imagine what it's like on match days!
There's free parking on-site which is so handy. You have to book online for tours in advance and they have reduced the numbers of people they can accommodate on each tour however this means that it feels more personal and it's easier to have a chat with the tour guide. Cian, our tour guide, was fantastic. He was so knowledgeable about Dublin history and his enthusiasm was infectious. 
I'm not the best with heights however even though we were 17 storeys high, I didn't have a wobble at all. It felt so safe and the views are incredible. Talking of safe, our guide wore his mask for the duration of our tour and there was hand sanitiser at the entry and exit points of the skyline.
After the Skyline Tour, we were free to explore the GAA museum at our own pace. This is a must for any die hard GAA fans. I think that even if you're not a fan of GAA, the Skyline Tour of Croke Park should be near the top of your list for things to do in Dublin, whether you're visiting the city or a local resident.
Croke Park Skyline Tours last about 1.5 hours and cost €54 for a family based on two adults and two children. Don't forget that price entitles you to entry into the GAA museum too. 
'Living History' experience at Dalkey Castle and Heritage Centre
A recent visit to Dalkey Castle and Heritage Centre, in the seaside town of Dalkey on the south side of Dublin, demonstrated how well the 'living history' concept works. The tour of Dalkey Castle is brought to live with different costumed actors who engage with the children and help describe what life was really like at that time. It felt like we were in the middle of a 'Horrible Histories' story, it was really enjoyable.
After climbing up to the battlements (some uneven stone steps) the guided tour continues to a bright, modern exhibition centre that easily caters for physical distancing.
Tours must be pre-booked as their numbers are reduced due to Government restrictions. A family ticket (2 adults and 2 children) costs €29.50.
Exploring Dublin Bay and meeting the friendly Dalkey seals with Kayaking.ie
If you're looking for a super family-friendly water activity to do together, kayaking ticks all the boxes. It's not too strenuous therefore it's perfect for beginners, you can take younger kids in a double kayak and it's something you can do regardless of the weather.
While we were in Dalkey, we were booked in for a Sunset Kayak Tour. We met Clara and Ciaran from Kayaking.ie at Bullock Harbour (there's plenty of free parking available) where we were given heavily sanitised wetsuits and lifejackets. After a safety briefing, we were allocated our kayaks and let loose into Dublin Bay with our guides.
It was a particularly wet and windy evening which meant that we couldn't kayak all the way out to Dalkey Island but that didn't spoil the fun. The guides took us around the Bay and then inland a little to meet the wild seals. There were five or six in the colony who came up remarkably close to our kayaks to say hello.
Kayaking.ie are running reduced numbers for their tours so be sure to book well in advance. The Sunset Kayak Tour runs everyday at 6:30pm, lasts three hours and cost €59 each.
Tasting the best of Italy in Ireland at Benito's
We take Italian food very seriously in our house. Every weekend we try to have our two favourite meals, homemade sausage ragù and homemade pizza. We love when we find a really good Italian restaurant as it gives us a chance to compare and contrast 🙂
After our fantastic kayaking experience in Dalkey, we headed to the popular Benito's Restaurant on Castle Street for dinner.
As soon as we walked in we were asked by the maître d' to use the hand sanitiser and then led to our table. I noticed quickly that there was plenty of spacing between tables with perspex screens to protect the diners. I was impressed to see that they were taking the COVID-19 Safety Charter guidelines so seriously. 
Choosing our food was easy, we ordered a few portions of Calamari to share for starters. Anna ordered the tagliatelle al ragù and everyone else chose different artisan wood fired pizzas.
There was no menu envy, we were all pleased with our choices. The ragù was great (nearly as good as ours!) & we decided we definitely need a wood-fired oven for our pizzas at home!
We didn't get to try anything from the dessert menu as we were full to the brim. We'll definitely return when we're next in Dalkey and make the effort to sample something from that dessert menu.
Day 3 of our Dublin Staycation
Stepping back in time at 14. Henrietta Street
The last stop on our recent Dublin Staycation was a visit to the historic 14 Henrietta Street Dublin. It's a unique museum in the centre of Dublin which captures 300 years of city life under one roof. 
It beautifully demonstrates the incredible story of how one house which was built as a stunning Georgian townhouse for Dublin's most wealthy families became a tenement building housing hundreds of people. Dublin City Council bought the building in 2000 and spent ten years restoring this stunning 18th century townhouse.
The tour at 14. Henrietta Street is a clever mix of audio-visual content and accurate recreations. Our tour guide Joe was such a lovely man who was clearly passionate and knowledgable about the house and the history of the city.
We felt (Covid) safe from start to finish. We wore our face coverings for the duration of the tour and all the windows were kept open to keep the house well-ventilated, remember to bring your jackets.
The tour lasts 75 minutes and is a fascinating and immersive experience, a real insight into Dublin's history over the last 300 years. It's a must for anyone interested in Irish social history.
A guided tour costs €9 for an adult and €6 for a child.
The best coffee and cake at Blas Cafe 
Before we left Dublin, we all fancied a quick coffee and cake stop and we popped along to the nearby Blas Cafe which had been recommended to us. There's a really cool vibe in this open industrial space with lots of tables. There is modern artwork on display which you can buy. The coffee and cake was delicious and good value and we'll definitely be back to sample their breakfast/brunch menu next time we're in this part of Dublin.
Cultural lunch at Hugh Lane Gallery
We think we've found one the quirkiest and cosiest lunch spots in Dublin. It's called Hatch & Sons and it's in Hugh Lane Gallery. 
After a casual stroll around the art gallery, we popped downstairs to the cafe. Even though it's technically in the basement, it's very bright and a lovely place to meet a friend for lunch. It's small though so I imagine that it could get busy on weekends.
We ordered their family lunch offer which was a blaa (a blaa is a regional bread speciality from Co. Waterford), a coffee/homemade lemonade and a slice of cake for €50 for our family of five. The blaas were made fresh to order and were very tasty.
Overall, it's was a lovely lunch and the perfect way to finish our Dublin staycation. 
Final Thoughts on our Dublin Staycation
Overall, we really loved our few days in Dublin. We didn't worry about Coronavirus at all as we were reassured by the fact that all the hospitality businesses and activity providers that we met during our visit had applied for and successfully received the Covid–19 Safety Charter.
If you're looking for a safe and relaxing Staycation destination with a difference, why not consider Dublin where there really is something for everyone.
To #MakeABreakForIt and plan your own Dublin adventure, head over to Discover Ireland to find out more about where you can stay and what you can do with your own family in Dublin.
Disclaimer : This trip was a paid partnership with Fáilte Ireland and it's affiliated brands Visit Dublin and Discover Ireland. Our hotel, meals and activities were sponsored however our photos and reviews are 100% honest and our own.