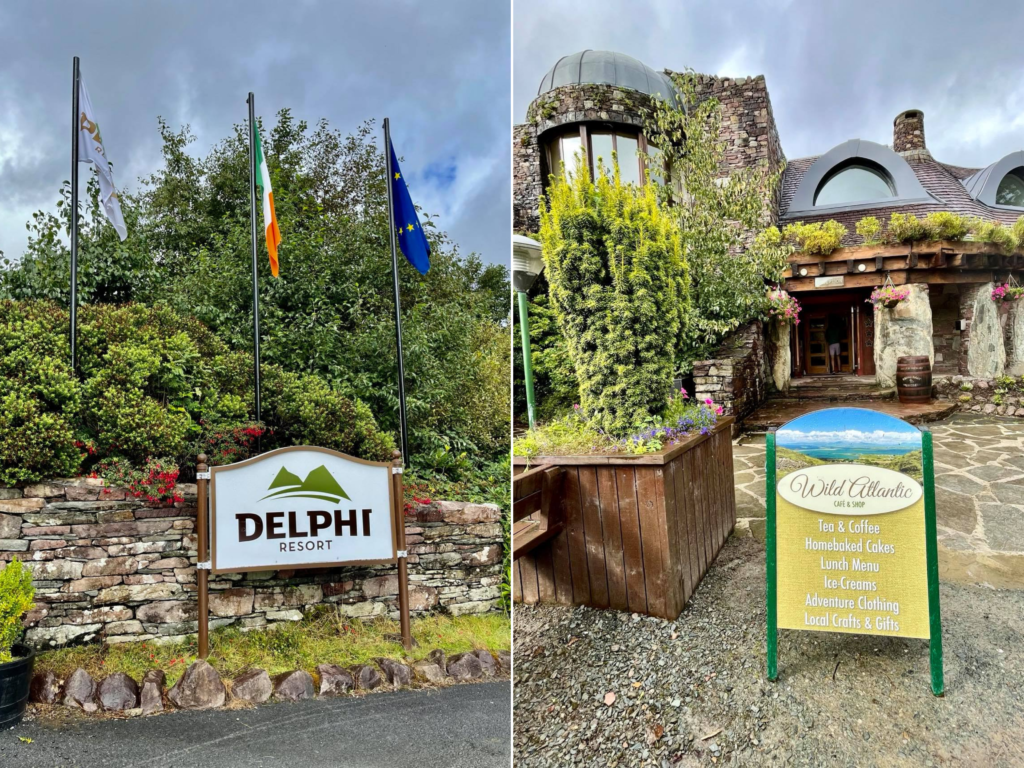 It was a wet and windy Friday afternoon when we arrived at the four star Delphi Adventure Resort in Leenane, Connemara. We left our eldest teen at home and were looking forward to some adventures with our two sixteen year olds. We received an invite to come and stay for a few days and considering how much we love this part of Ireland, we were delighted to have the chance to return to Connemara.
For anyone who hasn't been to Delphi before, it's hard to describe just how majestic the mountains are that surround this luxury 300 acre resort. I'd recommend driving the extra 15 minutes through Doolough Valley on your way to Delphi to see the Wild Atlantic Way at its finest.
When we arrived, the car park was busy as it's a very popular retreat for adventurous families and couples alike. There was a warm welcome in reception, from the staff and the surroundings. The fire was lit and people were relaxing in cosy armchairs with hot drinks and newspapers. Walking poles leaning against the armchairs gave away what they'd been doing for the afternoon.
At Delphi, you can leave the glad rags at home. Guests walk around in sports gear giving a nod to the adventure activities that available to visitors.
Our Bedroom
There are five different accommodation options when you stay at Delphi. We had a one-bedroom family suite (Room 15A) which was a large bedroom with an even larger bed and a set of bunk beds in the living room. The room, located in the Courtyard, felt large enough for four however there were only two glasses and two mugs so I suspect the room would usually cater for two.
There was no television in the room which is highlighted as a positive feature in the welcome letter and I agree. Delphi promote mindulfuness and total relaxation at the Resort. In fact there is no mobile phone network and a poor WiFi connection (0.6 Mbps download and 0 Mbps upload!). However this is part of the appeal. Teens (and adults) can't scroll mindlessly on social media or even check email easily. There's nothing to do except read, enjoy the views and get out and about in nature.
Our bedroom had air conditioning which is an added bonus however it kept resetting itself to 24 degrees. Perhaps I was setting it incorrectly.
There was a large furnished balcony which would've been a lovely place to relax with the family on long summer evenings. Unfortunately the weather limited our use of the balcony on this visit.
HOSTEL
For larger families or groups, it's worthwhile checking out the Wild Atlantic hostel next door the hotel. It's modern, clean and affordable. I know of a few friends who took their kids there for a break over the summer and they raved about it afterwards.
Dinner at Delphi
Usually, guests have the option of enjoying dinner in the bar or the restaurant however, due to restrictions, all guests now eat in the 814 restaurant. They do, however, have then choice of the bar menu or the more expensive set menu.
For our first night we choose the bar menu and enjoyed a steak sandwich, two Hereford beef burgers and a fish and chips. The food was really tasty and filling however we still managed to squeeze in a shared Eton Mess for dessert.
There's a kids menu for €12.50 which is fantastic value and for the grown-ups the set menu is 2 courses for €33 or 3 courses for €38.
On the second night, we went for the set menu and I enjoyed Tempura Prawns followed by the lamb followed apple and blackberry pudding. The lamb could've been more tender but the flavours were delicious. James and the kids all enjoyed their meals too. The service in the restaurant on both evenings was excellent. We had the same waitress at every meal and she couldn't do enough for us.
Remember to book all meals in advance on the Delphi Resort website to ensure you get the chance to dine at your preferred time.
Breakfast at Delphi
At Delphi, you have to order your cold breakfast items the night before and then order the hot food at the table. The first morning we were conscious of our planned activities so we went for pancakes and porridge which were all tasty. The coffee wasn't great so the next morning, we asked for americanos and our server was more than happy to indulge our coffee request.
ADVENTURE
If you are planning to do some activities during your stay, please note that all activities must be booked and paid for in advance. Delphi arranged for us to enjoy a half day activity during our stay. There are different activities scheduled on different days and that day we could choose between high ropes, archery or kayaking. We chose, well I chose, kayaking.
We walked over to the Adventure Hub to meet Peter our instructor and were fitted for wetsuits. After changing we got our car and drove the three minutes to the kayaking base.
After getting our helmets and life jackets, Peter ran through the basic skills of kayaking and then we lifted our single kayaks into the water. It was very overcast and dull but the water was surprisingly warm. There were eight of us kayaking in the group and Peter recommended we play some games in the water to build up our confidence. Peter was a terrific instructor and very patient. We were lucky to have had him as an instructor.
The weather lifted a little as we paddled out into the Fjord. We stopped at a waterfall, beached the kayaks and Peter showed us how we could safely climb into the rushing water. I wasn't sure if I would be brave enough to do it but I did and was glad afterwards that I did.
After changing into dry clothes at the car, we headed over to the, now famous, Misunderstood Heron for lunch. There was no queue which was a surprise considering it was a Saturday. We had beef, caramelised onions and black olives pasties and the special cake of the day while taking in the stunning views over Killary Fjord.
Spa
All adults staying at Delphi are entitled to a complimentary hour in the thermal suite. This hour must be booked in advance as there are restrictions on how many people can use the spa at one time. James and I booked an hour in the afternoon however I felt it was still a little too busy for me when we went. We were given a robe and slippers but weren't given any towels so we ended up leaving after ten minutes. I have been to Delphi once before with friends (pre-Covid) and remember using the spa then and felt that it was a really lovely experience so it seems we were just unlucky this time.
Overall, we really enjoyed our two night stay at Delphi Adventure Resort in Connemara. It's a wonderful way to get from it all with your teenagers and spend quality time together. Special offer family packages start from €416. To book your own adventure at Delphi, head over to the Delphi Adventure Resort website for more information.

Disclaimer :
We were guests at Delphi Adventure Resort for our two night stay. Please note that all photos and words are 100% honest and our own opinion.